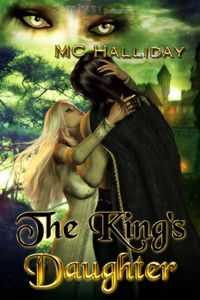 The King's Daughter
by MC Halliday
In a medieval Eire where the Druid legacy survives, the bartered daughter of a clan king struggles in a web of dark spells to save herself ~ and her beloved knight ~ while under the watchful eye of a lough wizard.
- The King's Daughter
Magaith is the daughter of the King of Munster. It's a troublesome time with vikings in Ireland, and her father has arranged a married with the mighty warrior king Borda of Connacht. She is a dutiful daughter and this will be of a great help for he clan.
But Magaith is in love with her knight protector Sygaith. He could never betray his king in that way, not even for the love of her. It is his duty to bring her to Connacht, and that is what he will do even if it breaks him. After that he will never look upon her ever again.
But not all is right in the kingdom of Connacht. Dark spells are being woven all around them, and she and Sygaith must hold together against the darkness that gathers.
Their journey will take them on a pathway of the Druids, they will encounter a dragon and secrets will be revealed to her. And the secret inside of her, magic. She must risk everything, even his love to save all of Eire against the dark wizard who wants her.
This is a fantasy romance, though there is sure a bit more than romance in it too. I am kind of hazy on where one genre starts and another one ends. It's also a historical when it takes place in Ireland 900 AD. But there is a lot of magic around therefore the fantasy element.
I do love good old Eire, so sure fun to read a story set there. I believe in the magic, the spells, wizards and witches. They belong there, and it feels right. It doesn't feel like she just came up with it but like the magic was lost to us as we evolved. Makes me want to go back to the days of magic.
Not to my confession, for some reason I had the hots for Borda who she was to be married to, he was so nice and sweet, and really wanted to be with her. Go figure, I fall for someone else than the hero. Sure Sygaith was nice, but he was a bit cold in the beginning. Which is understandable since he couldn't betray his king, clan and country. He has to see her married to someone else. And even no I like poor Borda, where is the love for him. I sure never know who I will fall for.
The story had it's share of twists and turns. She made some foolish choices that made me want to slap her, while he was ever steadfast. And poor Sygaith too, he got his fair share of magic. I am glad that worked out.
Sygtryg bowed and held his elbow to her. "Shall we walk in the fortress yard?"
Her chest pounded as she put her arm through his. The mere presence of her knight protector caused a stirring that made her near faint.
Then there is the evil dark wizard, he was a perfect disgusting bad guy. He wanted it all, and then he sets her sights on her. It makes me shiver in a very bad way. No hate for him, just grossed me out.
Negative things would be in the way it was written, very polite, formal and "oldish", does that make any sense. Not that I say there is anything wrong with that, but readers should know. Some will surely love it, and for me it made no difference at all.
Excerpt time I guess.
"Hush now, we are not yet to part," his daughter said as she patted his arm. "The journey is a few days hence and we shall ride together to Castlestrange fortress. The wed vow cannot be spoken until the month to come and then we shall say farewell. All told, it is long off yet."
If you want to see who she ends up with then here are some links. Her beloved knight, the great king or perhaps the dark wizard who can spell an entire kingdom to like him.
But some of the sex scenes were a bit strange at times, and made me annoyed at the heroine. But that happens
received a copy for a review