What arrived in YOUR mailbox this week? Visit Marcia at
The Printed Page
to leave a link to your post and see what other readers acquired!

I had such a lovely week :)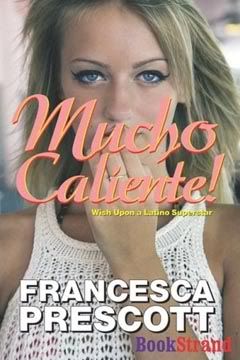 First up was
Mucho Caliente!
which was sent to me by the author
Francesca Prescott
. I have already started it and I can promise, it's a giggle party. I will be reviewing it this week.
Does Gemma dare wish upon a Latino superstar? Thirty-seven year old Gemma hadn't reckoned on being seated next to Latino heartthrob Emilio Caliente on the flight to Ibiza. She's bravely dismissed her cheating husband's generous divorce settlement, opting instead for a creatively satisfying, financially independent, bohemian lifestyle on a Spanish island in the sun. Falling in love with a pop music superstar eight years her junior was definitely not part of her plan.
Common sense dictates staying away from Emilio Caliente and his cinnamon kisses: his life is in turmoil, his latest single has bombed, and his manager seems increasingly deranged...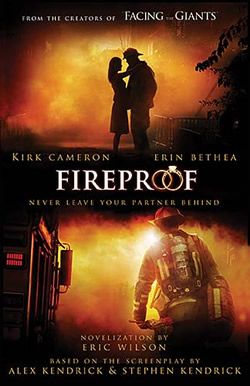 Next up was
Fireproof
, a book I won from Bev over at
Merry Weather

Inside burning buildings, Captain Caleb Holt lives by the firefighter's adage: Never leave your partner. Yet at home, in the cooling embers of his marriage, he lives by his own rules.

Surprised by what he discovers about the meaning of love, Caleb realizes that his wife and marriage are worth fighting for. His job is to rescue others. Now Captain Holt is ready to face his toughest job ever . . . rescuing his wife's heart.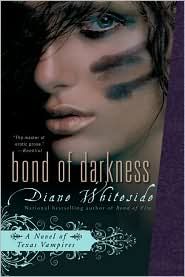 A
nd then there was
Bond of Darkness
by Diane Whiteside, a book about Texas Vampires. I won it over at
Bitten By Books
For 150 years, Ethan Templeton has happily followed Don Rafael Perez, vampire patron of Texas. But now Ethan has fallen in love with Stephanie Darling—known as Steve—a Texas Ranger and mere mortal. Unfortunately, a future with Steve is impossible. Because if Ethan turns her into a vampire, the price is execution by Don Rafael—the only one allowed to create vampires in Texas.
..
This was my week, how was yours? Anything fun in your mailbox?