What arrived in YOUR mailbox this week? Visit Marcia at
The Printed Page
to leave a link to your post and see what other readers acquired!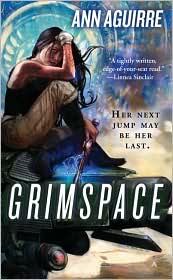 This week I got
Grimspace
by Ann Aguirre. I won it over at
The Thrillionth Page

By all accounts, Sirantha Jax should have burned out years ago…

As the carrier of a rare gene, Jax has the ability to jump ships through grimspace—a talent which cuts into her life expectancy, but makes her a highly prized navigator for the Corp. But then the ship she's navigating crash-lands, and she's accused of killing everyone on board. It's hard for Jax to defend herself: she has no memory of the crash.
What did you get this week?