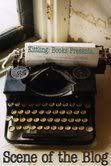 I will be featured on Scene of the Blog tomorrow, it's on
Kittling Books
. Stop by to see what my blogging corner looks like in real life.
I was contacted in my early blogging days, and I fear I have forgotten what I wrote. It was something short about what my blogging space looks like. I guess I will be just as surprised then tomorrow. Hope to see you there :)
Library Loot
Library Loot hosted by Eva and
Marg
asks us to list w
hat we brought home from
the li
brary this week.


Could you survive on your own, in the wild, with everyone fighting against you? Twenty-four are forced to enter. Only the winner survives. In the ruins of a place once known as North America lies the nation of Panem, a shining Capitol surrounded by twelve outlying districts...
The Declaration
by Gemma Malley
A powerful futuristic novel about a world which has gone mad
Imagine this: death is no longer inevitable and all children are an abomination. Imagine this: there are drugs which stop the onset of ageing and because of this, there's no room left in the world for youth and renewal and that most natural cycle of life: birth, youth, middle age, death. This is Anna Covey's world.
The Immigrant
by Manju Kapur
Nina is a thirty-year-old English lecturer in New Delhi, and struggling to make ends meet. Ananda has recently emigrated to Halifax, Canada; having spent his twenties painstakingly building his career, he searches for something to complete his new life. When Ananda's sister proposes an arranged marriage between the two, Nina is uncertain: can she really give up her home and her country to build a new life with a husband she barely knows?
Tales from the Town of Widows
by James Canon
In the small Colombian mountain village of Mariquita, a band of guerrillas storms in to protest the country's ruling government. They arrive with propaganda and guns, and when they depart they have forcibly recruited all the town's men, leaving behind the priest and a young, fair-skinned boy disguised as a little girl. In their wake, Mariquita becomes a sinking wasteland filled with women who quickly resign themselves to food shortages, littered streets, and mourning.
Yes, I know, I wasn't supposed to borrow any books, but I couldn't help myself. And I did bring back 3 books that I noticed that wasn't for me, so in theory I didn't really borrow anything...signed: book addict in denial.

.