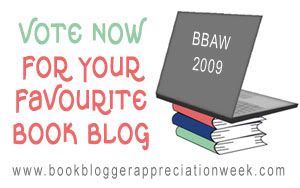 I thought about completing this meme long ago but I am finally getting it done. I do want to be a part of this fun week, might even do a giveaway since I just found the book for it (trying to look through my old books and organize them, you all know what that is like ;)
Now to the questions:
1) What has been one of the highlights of blogging for you?
2) What blogger has helped you out with your blog by answering questions, linking to you, or inspiring you?
3) What one question do you have about BBAW that someone who participated last year could answer?
1) Meeting a lot of interesting and friendly fellow bloggers. When I look back at the little lost blogger who took a step out in the big blogworld, well I wouldn't still be here if it weren't for all the lovely people I have met.
Also, I have found so many new authors, and books. I have read more than usual and I have gotten the chance to read new to me genres and such. Best book year of my life.
2) There were bloggers who took time to check back after I had visited, and those that came back again. I remembers my first followers and friends with joy. I could give you a whole list, but most of them know how grateful I am for their help *hugs all*
But I do want to mention someone, Lea from
Closetwriter
who made my blog into 3 columns and made it look all professional. She is always there with a helping hand if I ever need one. She is a blog-angel.
And to the rest, you are the reason I blog in the first place.
3) Hm, I honestly can't say. How was the week?
Oh yes not very creative today.
(A little sidenote. Got some wonderful news, will be having a Michelle Moran (The Heretic Queen and Cleopatra's Daughter) giveaway starting from next week, 2 books to give away, and it's international. Will see you there. More next week :)