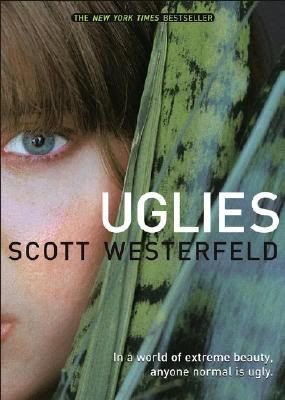 For a limited time only you can download
Uglies
, book 1 in the Uglies series by Scott Westerfeld for free!
Go
here
My
review
of this great book
Tally is about to turn sixteen, and she can't wait. Not for her license -- for turning pretty. In Tally's world, your sixteenth birthday brings an operation that turns you from a repellent ugly into a stunningly attractive pretty and catapults you into a high-tech paradise where your only job is to have a really great time. In just a few weeks Tally will be there.
But Tally's new friend Shay isn't sure she wants to be pretty. She'd rather risk life on the outside. When Shay runs away, Tally learns about a whole new side of the pretty world -- and it isn't very pretty. The authorities offer Tally the worst choice she can imagine: find her friend and turn her in, or never turn pretty at all. The choice Tally makes changes her world forever.


For more free reads check out
Suvudu
New this month is
The Brass Bed
by Jennifer Stevenson, a juicy read about
Lord Randall. He must satisfy one hundred women or be trapped in a brass bed forever. He was a lousy lover in 1811, so his magician-mistress turned him into a sex demon.
The Briar King.
Book 1 by Grey Keyes and
King's Property
by Morgan Howell.
Older Books include
Dark Fever
by Karen Mooning,
Kiss of Midnight
by Lara Adrian,
Blood Engines
by T.A.Pratt and
Assassins Apprentice
by Robin Hobb (a must read for a fantasy addict, you will want to Hug Fitz just like me.)
Hurry up since the old ones are soon no longer up for free downloads.
Have you ever taken a look at
BookCrossing,
people are setting books "free". perhaps there is a freebie read somewhere in your town. Head over and see, and perhaps set a book free yourself.
And if you had missed it, 16 books are up for grabs over at
Harlequin
in celebration of 60 years.