Library Loot hosted by Eva and

Marg
asks us to list what we brought home from
the library this week.
Yes I was not supposed to enter the library, but had to go and say bye to the girl I had worked with, and of course I had to borrow a book. And then I found out that Finger Lickin' 15 could be found and rushed to the other library at once ;)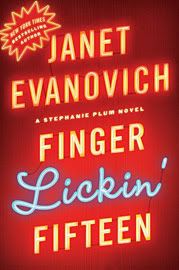 Finger Lickin' Fifteen
by Janet Evanovich
Stephanie Plum is working overtime tracking felons for the bonds office at night and snooping for security expert Carlos Manoso, A.K.A. Ranger, during the day. Can Stephanie hunt down two killers, a traitor, five skips, keep her grandmother out of the sauce, solve Ranger's problems and not jump his bones?

Snow Flower and the Secret Fan
by Lisa See
An old woman tells of her relationship with her "old-same," their arranged marriages, and the joys and tragedies of motherhood—until a terrible misunderstanding written on their secret fan threatens to tear them apart. With the detail and emotional resonance of Memoirs of a Geisha , Snow Flower and the Secret Fan delves into one of the most mysterious and treasured relationships of all time—female friendship.

The Little Giant of Aberdeen County
by Tiffany Baker
When Truly Plaice's mother was pregnant, the town of Aberdeen joined together in betting how recordbreakingly huge the baby boy would ultimately be. The girl who proved to be Truly paid the price of her enormity; her father blamed her for her mother's death in childbirth, and was totally ill equipped to raise either this giant child or her polar opposite sister Serena Jane, the epitome of femine perfection

Almost finished with the Plum novel :)