What arrived in YOUR mailbox this week? Visit Marcia at
The Printed Page
to leave a link to your post and see what other readers acquired.
One book this week, from bookmooch. I was supposed to get another Austen sequel too, but that one seems to be lost, or never sent.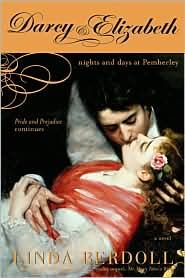 Darcy and Elizabeth
by Linda Berdoll
Hold onto your bonnets, Mr. and Mrs. Darcy have an exceedingly passionate marriage in this continuing saga of one of the most exciting, intriguing couples in the Jane Austen sequel literature.
As the Darcys raise their babies, enjoy their conjugal felicity and manage the great estate of Pemberley, the beloved characters from Jane Austen's original are joined by Linda Berdoll's imaginative new creations for a compelling, sexy and epic story guaranteed to keep you turning the pages and gasping with delight.
How was your week then?
.