Alyce @ At
Home with Books
chooses each week a favourite book of hers. If you want to participate just head over to her blog with your own favourite read.
This is a good idea, since there are so many books I read before I started blogging. So this week I will present one book I really enjoyed:
The Moonlit Cage
by Linda Holeman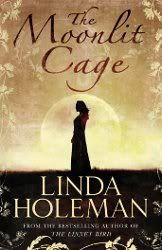 It is the story of two people as extraordinary as the Victorian age they lived through. Daryâ is the brutalised but courageous young wife of an Afghan tribesman. She is a cursed woman, married under false pretences, for she is unable to bear children. But more awful than her barrenness is the punishment she will face when her husband discovers Daryâ's curse. Knowing she must flee or he will kill her, Daryâ escapes.
David Ingram is an enigmatic Englishman, traveling in Afghanistan. Although he is a stranger to Daryâ, he is also the only man who can help her. He saves her life and, for reasons of his own, eventually offers to take her back to England with him.
With David by her side, Daryâ embarks upon the journey of a lifetime — one that takes her from the unforgiving valleys and mountains of her homeland to 1850s London, the heart of the mighty British Empire. And there Daryâ finds herself in an equally difficult position: can a girl who has navigated her way across the cruel landscape of the Northwest Frontier face what might be most perilous of all — the polite society of Victorian London? (
authors site
)
I would have to read it again to really express myself cos I can't remember all the details just that it was one of the best reads that year. This was a great story that sucked me in at once. I loved Darya because she wanted more, the did not always choose the right way, but I struggled there with her And then there was David who she met and who helped her. They were so perfect for each other, and I just kept wishing they could see that. But there was an entire society between them.
She paints beautiful pictures while writing and I can feel like I am there in Afghanistan and looking back at a time gone by. Even the sad parts were beautiful in their own way. The search for happiness was long and there was time I feared, but I kept on reading. A truly good and magical book. A story about love and loss because, and the dark places had me aching.
There was this beautiful quote about a golden cage that really expresses the book but I can sadly not find it now.