What arrived in YOUR mailbox this week? Visit Marcia at
The Printed Page
to leave a link to your post and see what other readers acquired.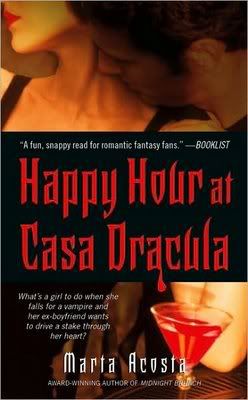 Happy Hour at Casa Dracula by Marta Acosta from bookmooch. I saw Dottie reading this one and wanted to read it.


Despite her Fancy University (F.U.) degree, Milagro de los Santos isn't having much success at life. She can barely pay the rent and all of her boyfriends are as frivolous as beach reads. Then, at a party in honor of her successful ex-boyfriend, she meets the unusually attractive, quirky Oswald Grant.
Who knew that her passionate kiss with Oswald would result in serious illness, a craving for raw meat, and an aversion to sunlight? Well, her ambitious ex knew, and after he attempts to kidnap Milagro, she must hide out with Oswald's snobby family at their country estate to recover and learn the truth about their mysterious "genetic condition."
When Oswald and his family are threatened, Milagro uses her wits, her wiles, and a whacky scheme to bring down the power-hungry creeps who refuse to let the undead live in peace.
What did you get this week?