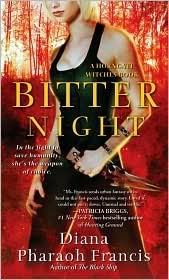 I am very lucky to have such a treat today. Thanks to
BookReaderTimes
I am hosting this awesome giveaway for Diana Pharaoh Francis' book
Bitter Night.
The 1st book in her Horngate Witches series.
What's it about? BITTER NIGHT is about Max, who has been betrayed by her best friend and forced to live a life she never wanted. She hates and loves what she's become and she lives in a permanent state of conflict over the matter. Now she's being asked to help the person who betrayed her, and if she doesn't, people she cares about will die. But in helping her, Max feels like she is somehow saying that she accepts what Giselle (a witch) did to her—like it's okay now. The idea of it grates on her. Add in a pinch of an apocalypse and a tablespoon of romance, and you've got BITTER NIGHT.

Rules:

1. Open to EVERYONE (The Prize will be shipped from www.bookdepository.com, and if they don't ship to your country, Ivy will ship them to you.)

2. Please include your email if it is not listed in your profile

3. That is pretty much it, but if you want you could tell me about some awesome book I should read :)

Good luck all! I will draw the winners on the 10th of November

And there is still time to enter my contest for
Wild Heart
by Lori Brighton.