Join me in celebrating 6 months of blogging :D
Yes, I thought it was time for a contest. Especially since I on June 15th will have had my blog for 6 months. Even if I didn't start blogging at once in a serious fashion. I looked back at what I have read, a lot of library books, some Swedish books, and then 2 I want to give away. They were cute, fun and good reads.
I have read good books, met wonderful bloggers and I have had so much fun. Thank you all. I thought it was time to give something back.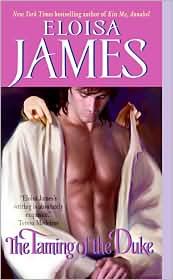 One of the books is
The Taming of The Duke
by Eloisa James
My review.
The second book is
The Loner's Guarded Heart
by Michelle Douglas.
My review.
I am going to make it pretty simple, but not too easy. To be able to enter just
answer this:
1)
Is there in sort of book, genre or something you would like to read more about on this blog?
I can't promise anything since I don't have much to choose from, but I like to hear what you all like to read about
I will have 2 winners, and the first winner will get to choose the book she or he wants. And the 2nd place winner will get the other book. Please make it easy for me to reach you, if you don't have a blog leave an email. And if I don't get an answer in 7 days I will pick another winner and bump up the 2nd place winner to first place. You all get the general idea.
2)
For another entry please post about this contest on your blog or sidebar or something like that, and come back and comment again. Makes my life easier .
This contest will end on June 14th and I will announce the winner on June 15th.
Good luck all!!
PS: Yes of course
open to all