Welcome back to Monday Mayhem!
This week I also have something good to offer. Caridad Pineiro is stopping by for a guest post, on her blog tour of her book Sins of the Flesh.

Thursday Jan 21st.


And I also get to host a contest of her book, and a Sins of the Flesh t-shirt. But the contest is only open until Friday.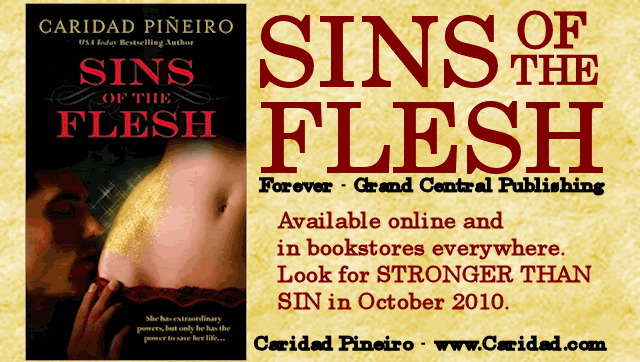 Caterina Shaw's days are numbered. Her only chance for survival is a highly experimental gene treatment – a risk she willingly takes. But now Caterina barely recognizes herself. She has new, terrifying powers, an exotic, arresting body — and she's been accused of a savage murder, sending her on the run.

Mick Carrera is a mercenary and an expert at capturing elusive, clever prey. Yet the woman he's hunting down is far from the vicious killer he's been told to expect: Caterina is wounded, vulnerable, and a startling mystery of medical science. Even more, she's a beautiful woman whose innocent sensuality tempts Mick to show her exactly how thrilling pleasure can be. The heat that builds between them is irresistible, but surrendering to it could kill them both . . . for a dangerous group is plotting its next move using Caterina as its deadly pawn.

So that will be fun. This past weekend I got to go to a big bookstore, and bought What happens in London by Julia Quinn. Oh I loved it so a review is coming up this week.

I also finally got my copy of The gathering Storm by Robert Jordan so will start it at once and even if it is huge I hope I can offer a review this week.

This is what I planning this week. Anything fun on your blog?

PS. The Lathan contest is still going on :) If you wanna enter for a chance to win 3 books.