I bring you with reverent hands / the books of my numberless dreams.
-WB Yeats, "A Poet To His Beloved"
Aarti:
WB Yeats, I'm sure, gave books to his beloved that he valued highly himself, and that he handled with reverence. If you had to recommend a book you revered to someone, what would it be?
I'm asking you to highlight one book. One book that you adore, that you prize, that changed your life, that you would save from a burning building, that you found serendipitously on a library shelf or at a used bookstore, looking lonely and ignored. A book that thrills you but that, you have come to realize, no one else has really ever heard of, much less read. With Reverent Hands is all about those books- the ones that deserve a wider audience than they are given and that you want everyone to go out and read, even if they are out of print.
If you would like to participate in With Reverent Hands, please go over to
Booklust
and comment :)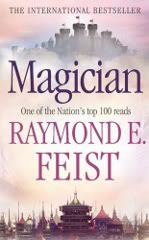 I was her first guest, and I talked about the book I love to pieces, Magician by Raymond E.Feist, a book well-known in fantasy circles, but I just wanna spread the love to the rest of the world. So I had to pick it. Come on over and say hi.