Must save that review for another time since it is getting late, but I did want to post something so here we go, back to library looting :)
Again, missing the making them smaller thing they used to have, I do not wanna use gimp every time to get them right so they have to be big now. Clock is ticking. So here we go
Library Loot hosted by Eva and
Marg
asks us to list what we brought home from
the library this week.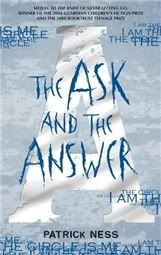 I could not be more excited for this book, The Ask and the Answer by Patrick Ness. I sure hope it is as good as book 1.
We were in the square, in the square where I'd run, holding her, carrying her, telling her to stay alive, stay alive till we got safe, till we got to Haven so I could save her - But there weren't no safety, no safety at all, there was just him and his men…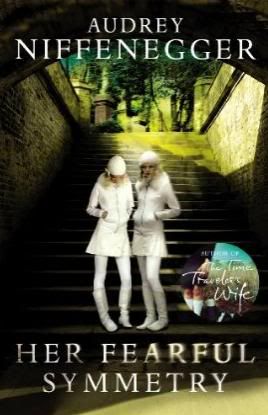 The last one was so sad, do I want to read this if it is the same? We will see.
Her Fearful symmetry by Audrey Niffenegger
As the girls become embroiled in the fraying lives of their aunt's neighbors, they also discover that much is still alive in Highgate, including--perhaps--their aunt, who can't seem to leave her old apartment and life behind.
This was a cover thing, it looked so fun.
The Second Assistant by Clare Naylor
Elizabeth's first task is to separate the beige thumb tacks from the coloured ones on the notice board. And when Lara takes her out for her drink that night and gives her the first rule, Never to Date anyone in the Business, she thinks it'll be a doddle.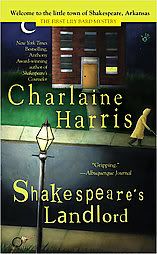 Gotta try what these are all about.
Shakespeare's landlord by Charlaine Harris
While on a late-night job in tiny Shakespeare, Ark., Lily Bard, 31, sees a furtive figure placing large plastic garbage bags in the local park and, untying one, discovers the body of her former landlord. In a quick but anonymous phone call (she is determined to avoid any questioning), she reports it to the police chief.
Yup that was my week, I also got a book for my mum cos omg, I have manage to get her reading! :D