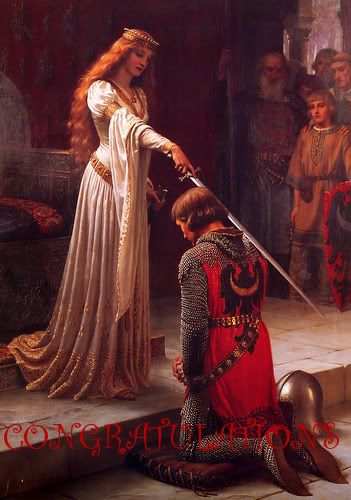 The winners of Cold Rock River by Jackie Lee Miles are:
Michelle G
and
Karenk
The winners of The Fire Lord's Lover by Kahtryne Kennedy are:
All winners have been notified.
Award Time:
This adorable award I got from Patti over at
Book Addict
Thank you so much, this one totally made my day :D You're the sweetest!
1. As with any other blog award, you should post it and mention who presented it to you along with a link to their blog.
2. You must then award it to 2 to 5 other bloggers that you have been following for some time and that you find inspirational to your blog. You may want to mention why you chose them, but it's not necessary. (Feel free to award it to someone who has already won it. They should know how many people are inspired by their work. If you've won it before, you don't have to pass it on again, but you should still mention who gave it to you.)
3. Contact these 2 to 5 bloggers and let them know that you have granted them the "You're My Inspiration blog award". (There may even be tears of joy involved…okay, maybe not.)
This one I got from Hawk over at
Houston AW Knight
Awww thanks! *cyber hugs* to you, lol.
1. Thank and link back to the person who gave you this award.
2. Share 7 things about yourself.
3. Pass the award along to 15 bloggers who you have recently discovered and who you think are fantastic for whatever reason!
4. Contact the bloggers you've picked and let them know about the award.
1. I loooooooove white chocolate, give me some and it will be gone before you turn around.
2. I am actually Swedish speaking, many online are nice and say things to me in Finnish, I love it when they do that and make an effort, but yes it's not my mothertongue. We are the forgotten minority outside in the world.
3. Met my bf online, I am so glad that he wasn't some crazy psycho, instead the cutest guy alive, it's true, he got an award..well from me ;) But that totally counts!
4. I have this strange thing that I do not sweat as much as normal people, you would think it's good, but it's not, I burn up.
5. I may have a little crush on Richard Armitage, schhhhhh!
6. You may not notice it from my blog, but my one true booklove is fantasy, I could read it all day long, if I only had the books.
7. Blodeuedd means Flower face in Welsh, I took the name because I used it in this story I am writing on. By now it is actually one long fantasy series. If I would sit my ass down I would have several books to edit, instead it's all in notebooks.