1. Answer the question, "What books have you been wishing for/wanting to get lately?".
Wishful Wednesday is hosted by
The bluestocking guide.
I fell in love with the cover, just look at it. The book sounds awesome, and it was released this summer.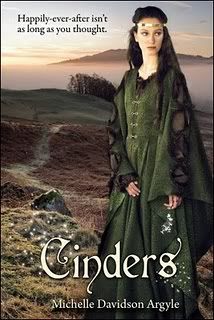 Cinderella's happily-ever-after isn't turning out the way she expected.With her fairy godmother imprisoned in the castle and a mysterious stranger haunting her dreams, Cinderella is on her own to discover true love untainted by magic.
And now to My entry for
Rod #18
over at Deadline Dames. Go and take a look at the pic we wrote a story about cos it's simply beautiful. I'll post another picture I found. And the contest for this month ends today so hurry if you want to write something.
Oh, and doing this cos evil
Dottie
told me to post it ;) (just kidding, I wouldn't have dared to without you.) So be gentle with me.
She felt a storm coming, but then they always came. They swept through the barren land taking what little that was left and leaving only misery behind. Soon the once green land would be gone forever, and left behind there would only be brown grass, and torn down buildings.

She was the watcher; she was the one who listened to the wind. She was the one who would get everyone to safety before it was too late. But time was precious. Food had to be gathered, nothing could go to waste if they wanted to live for another month. There were so few of them left now, a handful of people trying to live in a new world, trying to create a new haven.

She listened and watched the darkening sky. Not yet. It had to come closer; she had to feel its wrath feast on her soul. The darkness of the storm that had destroyed cities, the anger that had destroyed mankind, the force of nature that had swept away an entire civilization. So she watched, as she always did, and she wondered about those times that were long gone, the tales of green fields, and cities that reached the sky. But she never took her eye from the sky, and she never let her guard down.

The horn sounded and she took her chair and dragged it inside. Another watch was over, and left was the agony of hearing their doom.