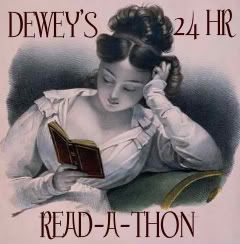 This is my first
read-a-thon
, and this time it's more for fun, some time I really want to do it all ;) But as for now, it just started and it's 3 PM here. And tonight we are going to my parents for dinner so not much reading then. And gotta sleep during the night, the antibiotics makes me sleepy. But At least I am gonna visit blogs :) And perhaps update on twitter, blodeuedd83
Ok meme time.
Where are you reading from today?
Demon from the Dark by Kresley Cole
3 facts about me …
From Finland, loves chocolate, would like to become an author
How many books do you have in your TBR pile for the next 24 hours
1..ok 2 (but that one is a maybe)
Do you have any goals for the read-a-thon (i.e. number of books, number of pages, number of hours, or number of comments on blogs)?
No, just going to go out and have a good time
If you're a veteran read-a-thoner, any advice for people doing this for the first time?
First time, but I have been a cheerleader
. Just have fun
Update: Hour..dunno, time: 11.20 PM
Pages read: *coughs* 0
Update:
Hour 10
Pages: 118
Yay, mmmm, Demon from the dark rocks, he is such a brute
But now bed, it's over midnight
Update Hour 11
Pages: 220
He is still a brute lol
Update Hour 19
I have been sleeping ;) It.s 9.30 am and time for breakfast and perhaps some reading afterwards. But not much since we again are going somewhere today.
Update hour 21
I have finished my book yay, 430 pages read.
Will make an post in an hour