Nina over at
Jadore happy endings
has these cool posts where she shows Dutch vs US covers, and today I had a look at
Larissa's
post about covers and yes I wanted to show covers too :)
Ok, first to make something clear, I am a Swedish speaking Finn, so I never read Finnish books, I grew up reading Swedish books. And now 99% English cos translations sucks. Confused...just think Canada.
So here I will just show both Fin and Swe covers since those are the ones I see around.
And last, I just love looking at covers :D So hope you do too, and I am gonna be snarky, yay.
Swe vs US
First up are Swedish covers of Sherrilyn Kenyon's Night Pleasures and Night Embrace
What the heck is going on? The first one, I would never pick that up, a big colorful mess. What is up with the flowers? The second, ok, there in the background something good is going on, and then they destroy it with a mess. Nah, these are just bad. Also the translation of the series means the Black Hunters...no.
In the end, there are so many US covers, I got lost, but didn't really like those either. But sure more than these.
EDIT: First, these books can be found at the YA section in bookstores, (have seen them in two) and at the end of the books they show other books the kids might like, like The Vampire Academy books, and Richelle Meads's books O_O Not really suited for YA are they the Kenyon books *double sigh*
Fin vs US
Now on to the Finnish translations of The Black Dagger Brotherhood: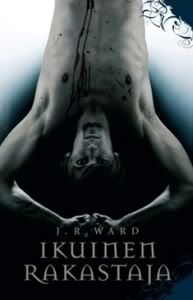 1. Eh, why is Beth upside down, and in that shirt. I mean the cover looks good, but not getting it. Why is it so goth?
2. Ok guy being tortured, perhaps drained of blood. Now what is up with these upside down covers?
3. Yes they made it into a theme. Guess that is Bella then. Nothing wrong with the cover, but it makes me kind of seasick.
Still "kind" of like them, but still yeah so bad......Lol, I am weird, but hanging man has totally grown on me. I think it is the blue color.
As for who won..I guess the US covers, though not a fan of those either.
That was all from me :D PS. The translations of all these 5 titles are good, nothing wrong with them, except for that series translation of the Kenyon ones.