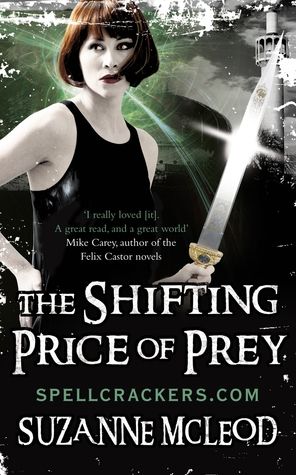 The Shifting price of prey
Sometimes a bit of magical help might cost more than you bargained for .
London is hosting the Carnival Fantastique, and Genny's job has never been busier or more fulfilling. Only not everyone is so happy. The fae are in trouble again and Genny learns the mysterious Emperor may have the solution they need – if Genny can find him.
Genny needs help. She turns to the vampire, Malik al-Khan, only to find he's wrestling with his own demons. Genny's own problems are about to multiply too. An old flame arrives with a tragic situation, just as the police request her urgent assistance with a magical kidnap. Is it all unconnected, or can the Emperor help her solve more than the fae's troubles?
My thoughts:
Did it end with a cliffie? Yes and no. It made me scream for more, but no one was falling off that cliff. They were just close, and getting closer. But that does not mean anyone will fall down. But you get idea. This book makes you crave more. Of course I told the author how evil she is ;) The best authors always are. They make delicious cliffhangers, not irritating ones. And she does know how to write a book.
Genny is like Genny always is. Lusting over Malik (you and me both girl!), misses Finn as he left (I never lusted after him anyway so no worry for me there), and trying to solve cases. And there is Tavish too, oh I can't help liking him too, sometimes even more than Malik. It must be what he is all about, luring people down into the river and drowning them. Anyway enough with the men (like I could get enough). Seriously the attraction is oozing out of the pages in this one. There is this build-up, both good and bad for Genny.
Creepy Autarch is back, and new player. She must find the Emperor to finally crack the lost fertility of the Fae. This is not easy. And we get more that we bargained for. I shall not spill it all, but it's good. And again poor Genny. She does not have any easy job.
And how about those revelations in the last book! Wow, messed up. This is the series to read, wicked vampires, lots of nice and bad Fae. And a heroine that has to tread carefully between the different worlds.
Conclusion:
Recommended to all!
Series: Spellcrackers #4
Pages: 534
Genre: Urban Fantasy
To be published: August 30th 2012 by Gollancz