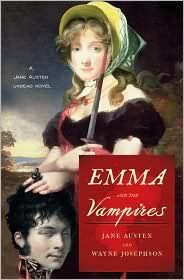 Genre: Fiction, historical, paranormal, Classic
Pages: 304
Published: August 2010
Sourcebooks Landmark
What better place than pale England to hide a secret society of gentlemen vampires?

In this hilarious retelling of Jane Austen's Emma, screenwriter Wayne Josephson casts Mr. Knightley as one of the most handsome and noble of the gentlemen village vampires. Blithely unaware of their presence, Emma, who imagines she has a special gift for matchmaking, attempts to arrange the affairs of her social circle with delightfully disastrous results.
I know that some do not like these mash-ups, but I think they are so funny. The things I love the most are the things I like to see changed or made fun of. This totally works for me. And you all know I love things Austen by now.
Most of you surely know Emma, the pretty spoiled lady who suddenly realizes that she is a great matchmaker, and of course she isn't and that leads to a string of fun misunderstandings. And this book follows that plot, it follows Emma as it should, with a few exceptions...
There are vampires around and in Highbury there are a few gentlemen vampires. The rest seems to be blissfully aware even though these men have black eyes, red eyes, never eat or sleeps and are really pale. Mr Knightley is one of these gentlemen, as is Mr Elton and Mr Weston. But there are also wild vampires around, and Emma who carries a stake is not a bad vampire-killer when attacked. Mr Knightley is also very handy with a sabre, cos yes he and the rest chops a few heads when attacked. A real gentlemen does not attack a lady without being asked.
Vampires works so well here because he keeps it witty and a comedy of manners. The book is hilarious and sure Emma may not be the best heroine but she does have a good heart and means well. Harriett is a vampiremagnet with her heaving bosom and slender neck, Mr Knightley as knightley as ever, Emma's dad just as he always is, and Frank Churchill, a coward, for a vampire.
For readers who wants to read something nice, I would recommend this. For readers who love mash-ups, don't forget this one, and for those that haven't try one, just plunge in, and don't be horrified that Austen's works are being turned into something else. I am pretty sure she would have gotten a few laughs from it too.
Blodeuedd's Cover Corner: Well that looks gross.
Reason for reading: From the publisher.
Final thoughts: The only thing I didn't like was the end, it left me a bit, what, and then?
4
Being a gentleman, he would never consider roaming about at night attacking young ladies to whom he had not been properly introduced.