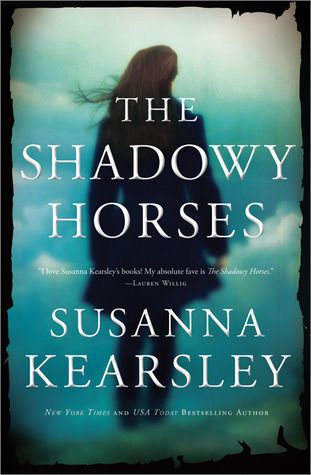 The Shadowy Horses by Susanna Kearsley
Verity Grey abandons her comfortable job at the British Museum to seek adventure on an archaeological dig in the wilds of Scotland. But when she arrives on site, she discovers that the excavation is being led by a discredited and eccentric old man who has forsaken scientific evidence. Instead, the entire team is following the word of a local boy who claims that he saw a ghostly Roman soldier in the fields.
As she becomes entangled in a subtle web of treachery and danger, Verity begins to believe that there is a Roman sentinel haunting the site. And he's there to do more than guard the bodies of his fallen comrades...
My thoughts:
I think I have read too many books involving ghosts (or read about them) I kept wondering if the sentinel here was a hottie and if they would hook up ;)
Let us forget about that and get to the story. Verity is an archaeologist, she loves her job but wants back to digging. So in comes Scotland, and a mysterious job she knows nothing about. Plus an ex-boyfriend who tells her to come. She has a logical mind, she likes order, but it does prove that she has an open mind too. For that I liked her, sometimes you just have to believe (well after a while).
On the team is also the eccentric boss who wants to find the missing Ninth Legion. Her ex-boyfriend who loves them and leaves them. A Scottish archaeologist who she starts to fancy. A woman who works at the estate and of course her son, the son who says he can see a Roman Sentinel guarding the hill. A nice group of people all in all.
The book is part fiction, part tiny bit of suspense, part ghost story, part romance. A nice mix that works.
The story is about the dig, about learning that there might be more to things than what we just see (and with a nice explanation too), and of course about finding evidence and getting recognition.
Conclusion:
A bit of everything, romance and a ghost that can't rest in peace.
Cover
Eh
Genre: Fiction, mystery, romance
Pages: 432
Published: October 1st by Sourcebooks Landmark

(first published 1997)


Source. For review
I think I want to end with a poem :)
HE BIDS HIS BELOVED BE AT PEACE
by: William Butler Yeats (1865-1939)
HEAR the Shadowy Horses, their long manes a-shake,
Their hoofs heavy with tumult, their eyes glimmering white;
The North unfolds above them clinging, creeping night,
The East her hidden joy before the morning break,
The West weeps in pale dew and sighs passing away,
The South is pouring down roses of crimson fire:
O vanity of Sleep, Hope, Dream, endless Desire,
The Horses of Disaster plunge in the heavy clay:
Beloved, let your eyes half close, and your heart beat
Over my heart, and your hair fall over my breast,
Drowning love's lonely hour in deep twilight of rest,
And hiding their tossing manes and their tumultuous feet