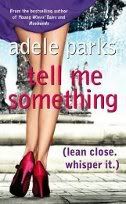 Tell me something by Adele Parks
Genre: Contemporary romance/chick-lit
Pages: 480
Published: 2009
Elizabeth has wanted two things her entire life to keep her happy and fulfilled – an Italian husband and lots of rosy-cheeked bambini. The first is ticked off, now she's bagged dark and sexy Roberto, the second is proving harder to achieve.

But when Roberto loses his job and decides to leave London for romantic Italy and the family business, Elizabeth hopes the change in lifestyle might help her relax and boost her chances of conceiving their longed for child. Except, no matter how much ice cream she eats in the sun drenched piazza, it's impossible to relax when her wily mother-in-law (the original black widow) seems hell bent on destroying her marriage. The language barrier is proving tricky too, as is Roberto's beautiful, significant ex who practically lives next door.

Is Elizabeth's ferocious hunger for a baby enough to hold a marriage together or is it ripping it apart? And why is she suddenly craving the company of a gorgeous, blonde American stranger? Her filthy, flirty thoughts about him are totally inappropriate.
I really should write a review at once, I only read this last weekend, and things are already slipping. But hey it's the weekend so this can be a short review.
Elizabeth is obsessed with a big O. All she thinks about is babies, babies and babies, and babies with her wonderful Italian Husband. Because that is her other obsession, Italians. She loves the country and has only dated Italians all her life. How she managed that I do not know. Anyway 6 years into the marriage and no babies, and every time she gets her period her world breaks down. She wants them, and needs them. But it seems her fluids kills his juices, or something like that. It's a killing field and what can a girl do who wants that bambini? Perhaps it's a sign that Roberto gets fired and they move. Italy, her other big obsession can surely cure the fact that their stuff is toxic to each other.
Happily ever after? Haha, NO! Omg, in comes mother in law from hell. I cringed every time she said something. She hates Elizabeth and she does everything she can to destroy the marriage. She pretends now to understand what Elizabeth is saying, keeps offering her only meat to eat when she is a vegetarian, makes her look bad in front of Roberto so he complains. Their marriage slowly breaks apart.
This was a good book, but that mother in law, yes I will say it, a bitch. It hurt to read it sometimes cos she was just on her case constantly. And I mean even if Elizabeth sure made mistakes, and yes maybe she should have been less baby obsessed, it was still such a poisonous environment. I longed for her to just go, go away and leave that place. But what to do when you live in the same house as your mother in law, who also keeps her clothes in your closet, while you have just your bags.
There was laughs, and there was heartache in this book. And then there was friendship, light, and romance. Things always works out for the best even if the road there is rocky.
Blodeuedd's Cover Thoughts: Her legs creep me out, and you should see the backcover. They are too skinny, too airbrushed, she has no thighs. Yak.
Reason for reading: Library book
Final thoughts: A funny, romantic book for the summer