And today it's time for part 2 of The Lady Scoundrels review The Raven Prince by Elizabeth Hoyt!
The floor is yours Sense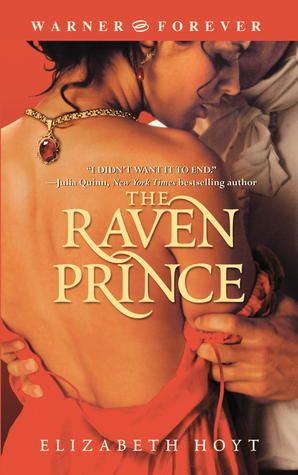 It's been almost two weeks since I read this book and the overwhelming joy I felt then has since dissipated. The four stars I gave to The Raven Prince doesn't seem as appropriate now as it did before. If I were working with half stars, I might adjust my rating, but as I am not, I'll stick with what I chose.
Because as clichéd as the story was, it was entertaining enough to set it apart from all the three star meh books I've read.
I've come to expect some level of anachronism from modern historical romances. These books are written for a modern audience and there are things that couldn't be thought of let alone written two or three hundred years ago that are
expected
in literature of today. As
Scorn
pointed out last week, it can be jarring, but if you're prepared with a hefty dose the patented
Suspended Disbelie
f magic powder you should be just fine. I was.
It didn't bother me that a widow was working as a secretary for an earl in 1760. It didn't bother me that said widow chose to further risk her reputation by caring for a sick whore. Neither did it bother me that the same virtuous and overly gentle-hearted widow chose to travel to London and pretend to be a courtesan just to have sex with the pre-mentioned earl. No, that part I actually liked, because I'm a well known fantasy fan, and because I had this feeling of a déjà vu. I can't be absolutely certain but I think I've read those exact sex scenes before. Perhaps in Finnish in a book I "borrowed" from my mother.
Because the powder was working it's magic I could sit back and enjoy the delightfully rounded characterisations for the main characters and the people around them. There was a sense of who they were, where they came from and why they chose the futures they chose, even if—predictably—the villainess of the situation was left with a little less attention than she deserved.
I liked that Anna Wren, the widow, was a headstrong feminist around the time blue stockings were only becoming a fashion. I liked that Edward de Raaf, the Earl, had real hopes and dreams he ultimately, and painfully, relinquished for something he wanted even more. I also liked he wasn't one of the stupid heroes who needed to be hit with a sledgehammer in the head to realise the obvious truth.
"Would you prefer swive? Tup? Dance the buttock jig?"
Also, I have to echo
Scorn's
spoilery remarks about the ending: <spoiler>
I saw that a magic-cock-cures-all deus ex machina was coming around the time Felicity started thinking about her red headed child. For me, the only acceptable reason for Anna's childlessness should have been her husband's sterility. I'm aware that this happens in real life, that women who aren't able to conceive with one man do with another, but this particular plot twist has been abused in romances and I would like to see it stop
.</spoiler>
To summarise: The Raven Prince fairytale was the best part of the book. Although there was too much sex, it was entertaining and I liked it. Slow start.

4 stars
Series: Princes Trilogy #1
Pages: 392 (paperback)
Publisher: Warner Forever
ISBN: 0446618470
Published: November 1st 2006
Source: Anachronist