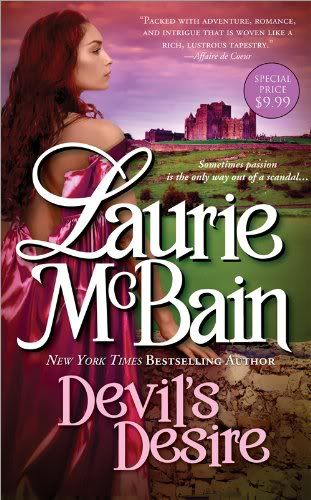 Genre: Historical romance
Pages:
Published: November 2010 Sourcebooks Casablanca
In a rousing, unforgettable saga that sweeps across the valleys and peaks of human destiny, the stormy alliance of beautiful young Lady Elysia Demarice and Lord Alex Trevegne plumbs the depths of raw human emotion -- lust, jealousy and hate -- for though Lord Alex has married Elysia, he cannot possess her in flesh or spirit. Out of the turbulence of their clashing wills comes one of the greatest love stories ever written, as their twin passions mingle at last, in a rippling tide of liquid fire!
Plot:
Elysia is an orphan and is staying with her horrible aunt who treats her like dirt. Trying to get away she is caught in a marriage of convenience, with Lord Alex Trevegne, a man called the Devil. She takes her away to his castle, and they clash at every turn.
My thoughts:
I am going to be brutally honest, I hated the hero. I mean I love a good tortured hero, but Alex, was an ass. He was cruel, angry, hot tempered, mean, hated him. He wants her, he plays games with her to get her to succumb to his will, he is jealous, and ok I can't seem to have anything nice to say about him. Except that he is good to his servants and horses.
Elysia was sweet, and she didn't let him put her down, her tongue was poisonous, and I liked her. The Devil got what he deserved from her. Their love affair, suddenly she knew she loved him..why? And even when he expressed his love, I didn't know what to feel. Also the first them they had sex, I was not approving of it. Even lost in passion, the way he brought it forward didn't suit me. I fear it might come from the book being published in the 70s. Like that was how men should be then.
I am not hating the book, no it was actually ok, I enjoyed it even when hating her aunt, him, and his evil ex mistress. Then there was action because of a smuggler ring, and that brought the tempo up. And I still wanted to see if these two could get a HEA, cos honestly it seemed impossible, and I would just have left if I was her. He was never physically enforced his will or anything, no no, then I would thrown the book at the wall. I just wished he could have been nicer, but the thing was, he just needed a wife, he didn't need to love her.
Final thoughts and recommendation:
No here it's where it get tricky, if you have read something else by her then you will surely enjoy this one. But I feel there are more romantic books out there. I will give it a 2,5 because, it was ok, and I would like to see if she has a hero that is a bit less of a Devil. I liked the book, I just didn't like him.
Cover: ok.
review copy from Sourcebooks