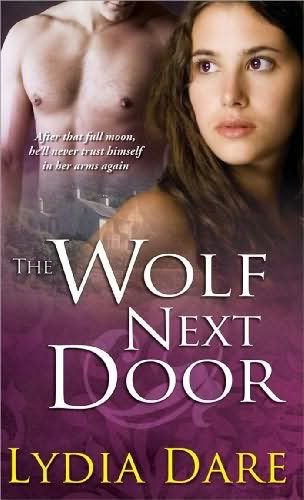 The Wolf Next Door by Lydia Dare
The Westfield Brothers 3
Genre: Historical paranormal romance
Pages: 384
Published: June 1st 2010 by Sourcebooks Casablanca
Rogue, Rake…Werewolf. Years ago on a full moon, Lord William Westfield gave way to his inner beast and nearly ruined young Prisca Hawthorne. Knowing he can never trust himself in the arms of the woman he loves, he throws himself into a debauched lifestyle. When Westfield discovers he has a rival for Prisca's love, he decides if she's going to marry a Lycan it damn well better be him. But time is running out as Prisca's other suitor takes an instant and potentially fatal dislike to Westfield.
I must say that this was my favourite book of the 3. Why, well everyone that have read them know about William and Prisca, their constant banter and how they seem to loathe each other, but at the same time they do seem to like each other...a lot. With that in mind I started this book.
We finally get an explanation why Prisca takes every opportunity she gets so verbally abuse William. There was a failed elopement years ago, and neither got over that. It is obvious that they still have feelings for each other, but Prisca does not trust him, and William is a notorious rake by now.
Her brothers are finally tired of her and has a plan, marry her off to William. But there is another suitor, and he is one big bad wolf. William will not back down now. It's all or nothing, and he is not ready to loose her.
Like I said before I could not wait to read Prisca's and William's story because they are at each other all the time. I was wondering how they with their constant bickering could see past that and fall in love. Well I can tell you that is not an easy road. They are still bickering, and the tension is running high in this book.
Prisca is a nice heroine who is not afraid to speak her mind, even if that leads her into trouble. And William, oh he is such a flirt, but with such a good heart that it just makes me wanna hug him, and the smack him over the head.
This is a fun book, you know it with those two, she is always at his throat, and he is trying to seduce her one way or the other. There is the merry hunt, and what happens afterwards. And then there is the big bad wolf lurking in the shadows, wanting Prisca for himself.
These two made this book the best so far. It had something for everyone, werewolves (yay), damsels in distress, witty remarks, and some lines that nearly killed me from laughing. For example when she asks why he always has something in his pocket. That, lol, has to be read.
A good werewolf story set in the regency era, and a nice conclusion to the Westfield story. All brothers had something special, but I do think I am starting to like William the best after this.
Tensions are running high, when a wicked werewolf finally meets his match, and passion can't be denied no longer.
Blodeuedd's Cover Thoughts: Just look at her eyes.
Reason for reading: Copy from the publisher
Final thoughts: Do you want the a historical romance, but with a bit of extra? Then werewolves might just be for you....3,5
The Cover for book 4, *warning* Do read book 3 before reading the blurb, cos there is a spoiler alert.