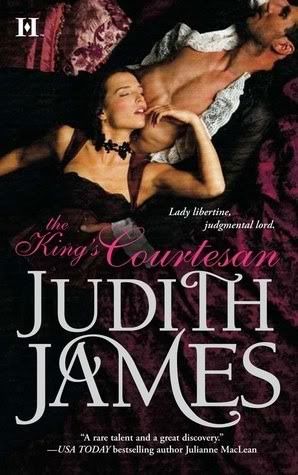 Genre: Historical romance
Published: September 1s, 2011
HER BODY IS A BATTLEGROUND

Sensuous, beautiful and determined, Hope Matthews is a favored mistress of the king. Her many charms have helped her rise from the gutter to the king's bed. But with the new queen's impending arrival, her nights in the royal chamber— and her hopes for security—will swiftly come to an end.


HIS HONOR A DISTANT MEMORY

Haunted by his past, hardened by the recent civil war, Captain Robert Nichols lives only for revenge. When told he must marry the king's courtesan to provide a cover for their affair, he's faced with a new low. Both are pawns of a great man, but married to their dreams of independence, their clash is inevitable. Can these two wounded souls realize the answer to all their dreams might lie in each other's arms.
My thoughts:
I did not see it being mentioned, but this is a series. I tried to read the book before this one and gave up for the moment because it was so jumpy. Then I moved on to this one and it was so much better. It works well as a stand alone novel but the couple from book 1 is around now and again.
I do not know what it was that made me fall for it; I do think it was the story in itself. The king's courtesan is married off so that she can come back with a title and pick up her duties again. You just have to like a story like that.
Hope is a commoner who is now the King's mistress. But he is getting married and she can't stay. She does care for him and is not happy when she is married to someone she does not know. Ok that is an understatement, she is furious! And I do like her, she has taken what she got and tried to make a future for herself. Mostly she just wants to be her own mistress and not depend on any man. And I do get her fury and everything else she is feeling.
Robert then, well he is about to lose everything so he takes this "deal". He is honorable and he has his own demons from his past to deal with. He is not happy about the situation but then he does what he has to do. And again I do like his reasons to why.
And of course these two will fall for each other. What else can they do? She is angry, he fancies her, and they are far from everything. So lots of passion promised. But also drama since this is not the best of situations and they have a lot to deal with before they can get that HEA.
Conclusion:
I liked this one and much sure has to do with the premise of the story.