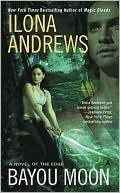 The Edge, book 2
Genre: Rural Urban Fantasy
Pages: 447
Published: September 2010
Cerise Mar and her clan are cash poor but land rich, claiming a large swathe of the Mire, the Edge swamplands. When her parents vanish, her clan's long-time rivals are suspect. But all is not as it seems.

Two nations of the Weird are waging a cold war fought by feint and espionage, and their conflict is about to spill over into the Edge-and Cerise's life.

Plot:
Cerise Mar live in the Mire where the Weird dumps exiles. They are poor, and others call them rats since there are so many of them. Her parents vanish and her clan goes out to war against their rivals, but something else is hiding in the Mire. And in to her life comes William, who is on the hunt.


My thoughts:
Oh I adored William in this one. I kept thinking of the guy Wolf in The 10th kingdom mini series, because he was just insane, and William the Wolf was insane too, he just managed to keep it inside. But we got to hear his thoughts and see the glimmer in his eyes, and I fell hard.

This is then the second Edge novel and this time we meet people from the Mire, weird swamp dwelling crazies the bunch of them. Cerise is one kick-ass woman who uses old magic to maker her sword powerful, and she needs to man to take care of her. William wants someone in his life but he knows that no sane woman would be with a changeling and it does break me to see him think like that. But he is such a good guy, protective, and not so good in social situations. That just makes me wanna hug him. Together they are just perfect, but they will have to work for it.

The action is constant. William is hunting a man named Spider who is a real freak. The two states in the Weird is on the verge of war, and something in the Mire can turn things around. It just depends on who gets it first. So we have William clashing with the Spider, the Hand, his band hunting the Mars, The Mars feuding with their rivals. Bodies piling up and magic going wild. Because there is strange forgotten magic in the Mire.

This weird world, the edge, located between our world The Broken, and the magic world the Weird is the best thing about this series. It is well done, and there is always something strange going on. Great world building and great history.

When I left the world I did wonder, who will be in book 3? In book 1 I saw William clearly for the next one, but here, I just do not know.

Recommendation and final thoughts:
You can just jump into this one or go back to book 1, it does not matter, but of course in book 1 you get to meet William too, and that one is really good. This is a book I do recommend to all. It's fun to read, there is action, there is romance, and there is some cool magic going on, and I always like an interesting world.

Reason for reading:
Book 1 was awesome

Cover thoughts:
She is cool, but him floating around, nah not so much. I would take him out.