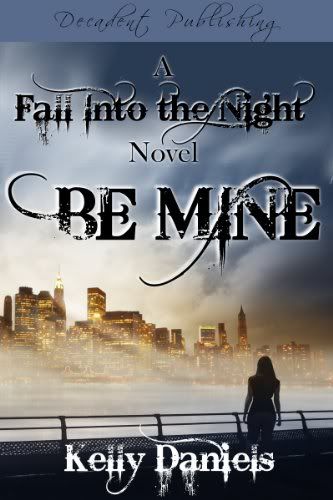 A Fall into the night novel
Genre: Paranormal romance, suspense, thriller
Pages: 268, ebook
Published: November 2010
Guest review by Lis
Stubborn and independent, Elle Galligan wants to be left alone by her crazy ex-boyfriend, Lukas, who continues to terrorize her, each time more viciously than the last. With no choice, she seeks out the one man she's turned her back on from the past—only to be thrown into the unknown.

Successful Prince of Darkness, Larik deWolf, spots trouble the moment Elle calls him. In an ongoing war with Elle's shapeshifting ex, Larik is left with no alternative and vows to protect her from the evil stalking her, only to draw Elle closer into the mysterious world he hid from her. As danger strikes, history deems to repeat itself. When attraction binds them together, Elle threatens his supernatural abilities and control. Larik finds himself opening up his heart to the one woman he's tried not to love, but will she accept his secrets or continue to fight fate?
Alright, so I've been staring at the screen for a full 10 minutes now, trying to find a way to start this review. Some scratches, eye rubbing and hair twirling later, I still don't quite know to start this review. The fact of the matter is, no matter how hard I tried, I didn't like this book. The reason is not so much the writing. The author, Kelly Daniels, actually did a not so bad job for a first time author.

Only she fell into the trap so many e-authors tend to do. Well not just e-authors either, authors ingeneral from genres far and wide too. She wrote a book around the all time favorite subject in the history of romance books, be it male-male, male-female, male-male-male, a female in between or an alien, dragon, wolf or whatever. What am I talking about...stalkers. Yes. It should be a sub-genre by now. Why there are so many stalker-romances I don't know. It might be the easy get together of characters or the strong protecting the weak from the extremely creepy. I don't know.

For me it has become a major turn-off these days just like the Big Misunderstanding. It is too common in romance. Too easy to write. An easy simple subject just to get characters together in bed. So when Elle - after she discovered her paranormal creepy jackass stalker ex-boyfriend is back on the prowl - fell (complete with waterworks and dramatics) into the arms of the very handsome, very strong and very protective Alarik deWolf better known as Larik, I sighed a deep heavy sigh and muttered "here we go again."

What follows after that is our typical stalker romance story. To me it was pretty basic and lacked originality. However, judging from the writing, I believe this author has potential. It's not a complete write-off. She just needs to be a little more original in her plot. Little less stalker and little more oomph. I really hope her next story is something better that I can give a better review.

However, not everyone is like me (rooting for a strong independent woman who can kick her own ass and doesn't need a man to do that) so if you like reading a story with a strong handsome man in full-on protective mode to read in front of the fire place and shiver in delight when he rescues the damsel in distress from the big bad stalker, then this book is definitely for you.