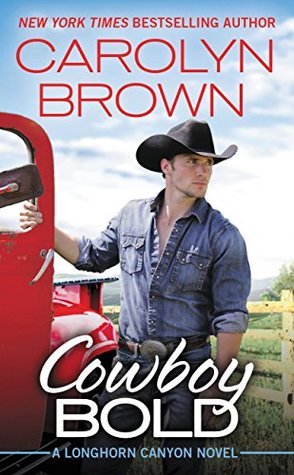 Author: Carolyn Brown
Title:
Cowboy Bold (Longhorn Canyon #1)
Genre: Romance
Pages: ebook
Expected Publishing: May 29th, 2018
Where I Got It: My shelf (Netgalley)
Every summer Cade Maguire looks forward to opening his Longhorn Canyon Ranch to underprivileged city kids. But this year, he's having no luck finding a counselor for the children-until Retta Palmer walks through his door.
Flat broke after selling everything she owns to pay her father's medical bills, Retta is thrilled to hear of an opening for a counselor position. She's not as thrilled about the ranching part, or the sexy cowboy with beautiful blue eyes who's her new boss.
After being left at the altar two years before by his fiancée, Cade isn't sure he can take another heartbreak. And Retta isn't even sure she wants to stay. But the sparks between them are absolutely undeniable. And with a couple of lovable kids and two elderly folks playing matchmaker, Cade and Retta may find that the best way to heal is with each other.
I so do adore this author's works! She really knows how to bring a realistic story to life with drool-worthy cowboys.
Cade is a cowboy who wants to make a difference. He is opening up his ranch to underprivileged city kids to give them a few weeks of utter joy and fun. However, this year he is having issues finding a counselor for kids. Like magic, Retta comes in and he hires her right away. She is qualified and sexy. Cade was abandoned at the alter two years ago and Retta is dealing with the death of her parents. They are both broken, but maybe they can heal each other.
First of all...that lady was insane to leave Cade at the altar. He has a heart the size of Texas and is hunk. Fool! But Retta is a better woman, so it all works out.
I liked Retta a lot and I loved Cade. They worked. It was insta-lust for sure, but as they got to know each other love blossomed. It worked well especially since they have their issues they are trying to deal with. I enjoyed their banter. I did get a little annoyed with the continued reference to how she is a Sooner fan and he is a Longhorn fan. It did go on too long. Like I get it. Other than that though, I adored this book and these characters.
I always get a little worried when an author writes a story with kids involved. Sometimes the kids are drawn very 2D and annoying. However, the author did a wonderful job here. The kids, all of them, were written well and they felt real. I felt so bad for all of them...they all have crummy backgrounds in different ways. Some have amazing parents but are poor. Some are foster kids. Some have terrible parents. I felt for them and I wanted them to stay on that ranch forever! They were all so happy!
The ending was good. I knew they would get their HEA, but I did worry there! It all came together fine and good. I am curious to see what is next! I want to read more! All those cowboys need a HEA. Good men. Sexah cowboys. *nods*
In the end, I'll stamp this with 5 stars.