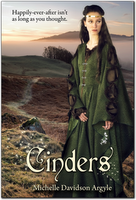 Genre: Historical fantasy romance fairytale
Pages: 182
Published: June 2010
Cinderella's happily-ever-after isn't turning out the way she expected.With her fairy godmother imprisoned in the castle and a mysterious stranger haunting her dreams, Cinderella is on her own to discover true love untainted by magic.
I saw this cover and knew I had to read this book. And don't expect some happily ever after, no this is what happens after the HEA.
Cinderella is married to her prince, but she is unhappy and bored. Sure Prince Rowland is wonderful and loving but she knows that he is under a spell, and would he love her without the magic? Her fairy godmother is being accused of witchcraft and is rotting in the dungeon, and Cinderella is feeling the burden of her crown. She is no longer sure that this is what she wants, and then they are the dreams that haunt her. About the man she met and the man who left. The stranger she now dreams about and wants to be with. And she wants to find a way to do just that.
As you can see everything is not perfect, she got her prince Charming but at a price, and the magic means that everyone around her likes her. Rowland and she seems to have a lovely time together, and he does seem perfect. But yes, magic. Though it never hit me to feel sorry for him, I guess I was so focused on what Cinderella was doing. I could understand her, but she also ended up doing some things that made me wonder how she later in life thought about those things. I can't say too much so not to spoil things.
All was not well in the kingdom either, now the rule was rather oppressive and the people wants to revolt. Heads will fall in this book, it is a fairytale with a grim truth.
The best part must be the end because I was surprised, and I love being surprised when it comes to books. Argyle did a good job with that.
All in all, you have to pay a price for magic, and this fairytale could sure have been told in the old days, with that bit of advice in it.

Magic, elves, fairies, step into a fairytale that seems to real.
Blodeuedd's Cover Corner. Love it. One of my all time fav covers.
Reason for reading: I asked the author.
Final thoughts: I finished and wanted more, and then I read that there will be other fairytales and that I do look forward to.

4 Crowns
and more places