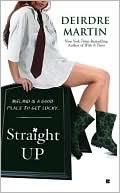 Genre: Contemporary romance
Pages: 352
Published: 2010
Even a man on the run can enjoy the thrill of the chase...

Hiding from New York's Irish mob, Liam O'Brien is in Ireland working as a bartender in his parents' old village. Hurt once by a man, Aislinn McCafferty is the local ice queen, which the unsuspecting Liam soon learns the hard way.

Accepting a wager from the pub's owner, Liam pursues Aislinn. But neither of them expects this donnybrook of the sexes to turn into an unlikely love...
I am gonna post my lost review here. I read the book back in July, it was supposed to be a guestreview and in September I realized it was lost, but yesterday, I finally found it.
This was so a fun and sweet romance, and I am not just saying that cos it took place in Ireland ;)
The story:
It's about Liam who is running from the Irish mob back in NY, and now he works as a bartender in a little Irish village. Then there is Aislinn, a sheep farmer who got hurt badly in love and now is just angry. After a little run in with Liam he does something incredibly stupid. With the pub owner and the 3 stooges he makes a bet that he can get her. Let the games begin.

The couple:
Oh oh, man he was stupid. He makes that bet and then falls for her. He realizes that she is sweet under that frown, and he loves who she is with her sheep and Padraig that works at the farm. So he gets this stupid notion that he can win the bet, and keep the girl. Sighs, men! Does he not understand that when she realizes the will leave him bleeding in a ditch? No is the answer and she falls in love with him, and I keep waiting for her to find out and hit him over the head with a whisky bottle. Cos he deserves it if he is such a bloody eejit.

Aislinn has a tongue of her own, she was lied to be a man she loved, and now she feels like everyone is pitying her so she rather angry and people in the village is calling her The McAfftery. But it's her way of dealing with the hurt, and it's not like she is some angry woman. No she just gives the three stooges at the pub a tongue lashing now and again, but hey they enjoy it too. It seems she is the only woman to actually talk to them. Other than that she is a nice woman, and I do like her. She has had much to deal with, but she stays strong, too strong actually, and all she wants is to keep those sheep.

My thoughts:
I want these two to be happy but with that lie between them I know that sooner or later all hell will break loose. In the mean time it's fun to see Liam try, and finally manage to court her. They do have this bantering between them and it's fun to watch.
A sweet romance, set in a beautiful country. A Yank falling for a sheep farmer, what more is a girl to ask for.
Blodeuedd's Cover Corner: It looks fun !
Reason for reading:won
Final thoughts. This was a great contemporary romance, fun and romantic, with some great characters in it.