A Fables Novel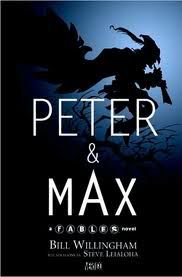 Genre: Fairytale/alternate world/this world
Pages: 400
Published: 2009
A new stand-alone FABLES NOVEL from award-winning and wildly acclaimed author, Bill Willingham.
This story stars Peter Piper and his incorrigible brother Max in a tale about jealousy, betrayal and revenge. Set in two distinct time periods, prepare to travel back to medieval times and learn the tragic back-story of the Piper family, a medieval-era family of traveling minstrels. Then, jump into the present to follow a tale of espionage as Peter Piper slowly hunts down his evil brother for a heinous crime, pitting Peter's talents as a master thief against Max's dark magical powers.

Based on the long-running and award-winning comic book series FABLES, PETER AND MAX is its own tale. Readers don't have to be familiar with the comics to fully enjoy and understand this book.
I actually borrowed this one before I read my first Fables graphic Novel. And after reading this book I sure want to read those graphic novels. Because the world is wonderful.
This is then a novel based on the graphic novels. It is a standalone and it is about Peter and Max. The book takes place in this world, because the Fables (all those famous fairytale stories we know and love) fled to this world to get away from the war. Here they settled in new York. Peter is happy with this wife, but then he learns that Max is back. His evil brother. The book deals with his journey to find Max, and flashbacks to how Peter grew up in fableland, and and why his brother went crazy. It also has some lovely illustrations here and there.
I have only read one Fables graphic novel, and that one dealt with things before they came to New York, but I had no trouble with this book since it is about Peter's life, and we also meet the famous Pied Piper of Hameln.
I just love these stories, they are so much fun, and yes dark. The reason why we have fairytales is cos these Fables came to our world and magic kind of rub off and stories spread, not the real ones though. The story is cool, and I read and read, and still wanted more.
The world they come from is just like ours but with talking animals, evil orcs, or was it ogers, and magic. A fun novel, and you sure do not know what is gonna happen next.
Blodeuedd's Corver Corner. Fitting
Reason for reading: Library
Final thoughts: I really must read those graphic novels