..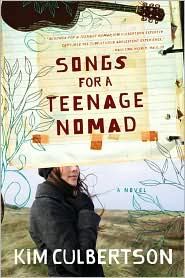 Genre: YA, Fiction
Pages: 256
Published: September 7th 2010
Sourcebooks Fire
After living in twelve places in eight years with her drifting mother, fourteen year old Calle Smith finds herself in Andreas Bay, California, at the start of ninth grade. Fearful of putting down roots anywhere, but armed with her song journal, she moves to her own soundtrack through a world that bounces her between the school drama crowd, a mysterious loner, and an unlikely boy with a secret. But Calle has her own secrets. The troubling truth she uncovers about the father she thought abandoned her is the catalyst that forces Calle to face the toughest choice of her young life.
There were something about this book. How to put my finger on it, it was just good.
It's the story of Calle, a girl who truly is a teenage nomad. Her mum finds a guy, lives with him, or marries him, is happy, but then leaves. Calle goes from school to school, and the only thing constant is her journal. There she writes down memories when she hears different songs. Now she is at a new school, she actually gets friends, she falls for a boy, and she longs to stay. Then there is the mystery concerning her father, and why her mum keeps on running.
First I must say that I found the name a bit funny, since here it's a boys name, and I kept thinking of my second cousin. Anyway...
Calle is a great girl, she loves her mum, even if they move all the time. She is really creative, and smart. She falls for a guy, who I can't make up my mind about at first. But then he also has secrets.
What I also like is that it's not too much drama, I mean there is drama, a lot of serious stuff, but not those cliché YA dramas, and not drinking or fooling around either. She is just a normal teenager living at the fringes of High School. But there is one mean girl though, isn't there always one.
This books also deals with some big secrets, and slowly she finds out about her dad, her mum, and what is going on with that boy she likes. And in the end I got some tears in my eyes, because it was lovely, happy, and sad too.
A great YA book, for everyone, and I really enjoyed her creative side. It made me think what songs I associate for things that have happened.
Blodeuedd's Cover Corner: I like it.
Reason for reading: From Sourcebooks.
Final thoughts: A great book for adults and teenagers.