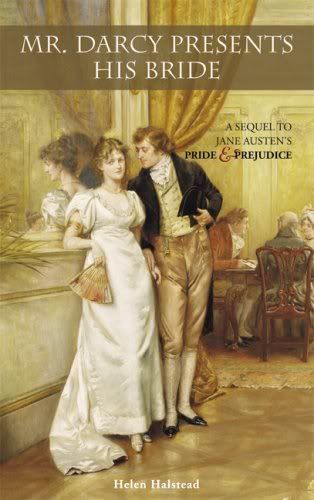 Genre: Historical romance, regency
Pages: 320
Published: 2007
When Elizabeth Bennett marries the brooding, passionate Mr. Darcy, she is thrown into the exciting world of London society. She makes a powerful friend in the Marchioness of Englebury but the jealousy among her ladyship's circle threatens to destroy Elizabeth's happiness. Elizabeth is drawn into a powerful clique for whom intrigue is the stuff of life and rivalry the motive, and her success, it seems, can only come at the expense of good relations with her husband. This novel also continues the stories of other favorite Pride and Prejudice characters including Georgiana Darcy and Kitty Bennett, each of whom have amusing adventures of their own.
I truly can't get enough of these it seems. This book takes place after the wedding, Lizzy is to be introduced to society, Lady Catherine is furious, Kitty wants a man, Georgiana is to be presented, and all the rest are there too.
First I must mention that this book had some sadness, and that was sure unexpected, but it was a part of the story. Still made me sad.
Lizzy and Darcy is as loving as always, but I must confess that this book showed a side of him that I didn't like. He was jealous, got all grumpy, and I even thought he was a bit whiny. She still loved him, but this was not the Mr Darcy one meets at the end of the book. Sure the book showed an epilogue of 12 years later, but if it was like thsi in the beginning so how did they suddenly got really happy and content?
To the rest, oh my, this book wanted matches for all, I shall not say who actually married but in play were: Kitty Bennet, Georgiana Darcy, Anne de Burgh, Colonel Fitzilliam and Caroline Bingley. I must confess I enjoyed that, I wanted a HEA for all of them (ok not all, but it worked out ok.) I am sure if she had continued Mary had gotten a man too, but yes, Mary, she was rude and really unpleasant in this book.
An ok Austen sequel, but I just feel now afterwards that I didn't love Darcy as I should have.
For fans this could be a book to read, since I liked the fact that she went all matchmaker on the whole bunch. But I would have liked a happier Darcy and not that sadness part.
Blodeuedd's Cover Corner: Fitting
Reason for reading: Ok, you see I went to visit a friend and I went to her library and omg, omg! Big city library, in awe! I wish I could have stayed for 2 weeks and read and read. But I still managed to grab a few books,and will continue to read like crazy. Some cool books coming up this weekend.
Final thoughts: An ok sequel.