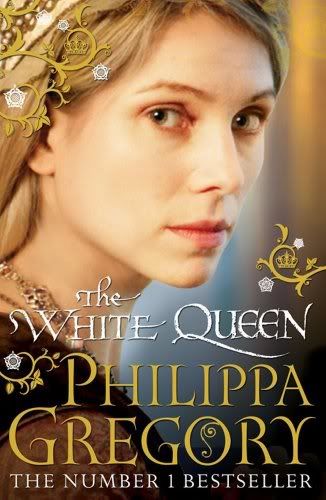 Genre: Historical fiction
Pages: 417
Published: 2009 Simon & Schuster
The first in a stunning new series, The Cousins War, is set amid the tumult and intrigue of The War of the Roses. Internationally bestselling author Philippa Gregory brings this family drama to colourful life through its women, beginning with the story of Elizabeth Woodville, the White Queen. The White Queen tells the story of a common woman who ascends to royalty by virtue of her beauty, a woman who rises to the demands of her position and fights tenaciously for the success of her family, a woman whose two sons become the central figures in a mystery that has confounded historians for centuries: the Princes in the Tower whose fate remains unknown to this day.
I might have read a Philippa Gregory book way back, before the Tudor books, so I was very curious how she wrote when I started this one. And I liked what I read. I read a book about the War of the Roses not so long ago, but this story can sure be told again.
It's about the sometimes oh so confusing War of the Roses. Lancaster about York, cousin against cousin, brother against brother. Elizabeth Woodville was a young Lancaster supporting widow who asked the new York king to help her get back the land for her two sons. They married, and the story begin with her living it. Edward IV trying to hold his throne, Warwick resenting her, Henry VI trying to take his throne back, trouble with his brother George, and all those Lancaster and York supporters changing sides and rooting for new supporters.
This book made me google, a lot. A really interesting historical novel always makes me to that, I want to have a look at everyone involved, see what happened before, and what will happen. One thing I was happy about to see was the family tree in the beginning, because that was needed so see where the Lancaster house and The house of York really fought for, and of course to see where the house of Tudor started.
I came to like Elizabeth through this book, and she really loved her husband, even though he had bedded half the women in England, but he still loved her like crazy. And I liked him even if he slept around.
But there were some aspects that were a bit, I mean I had nothing against it, but felt it didn't have to be there. The house of Burgundy claimed that they were descendants from Melusina, this half woman, fish being that lives in lakes. There was magic in the women of the family. I am glad that she never said that it was magic; instead she just made Jaquetta and Elizabeth witches who thought they managed to make some things happen. Just because Jaquetta was accused of being a witch doesn't make her one. The best way to discredit a king is to call him a bastard, his wife a witch, and more. The reason why they surely married in the first place was lust, cos yes he got around. But in the end, I didn't mind really. Let them think they have powers.
She also took up the subject of Perkin Warbeck, and made him truly be Duke Richard, one of the princes of the tower. Interesting take on an age old question, but no, I to think they both were killed, one way or another. Who killed them is another matter.
Last is just a personal thing, Elizabeth of York (Elizabeth W's and Edward's daughter) was rather silly in the end. Come on, falling in love with her uncle, Richard III, gross. And he had killed her uncle, her half brother, and more. He might have killed her younger brothers. He stole the throne, and she liked him? Well at least she did in this book, the truth we will never know. But there was sure something fishy going on at that court. But anyway, I did not care of her in this book.
A good book about the War of the Roses, and of one fascinating woman. I hope the Red Queen is equally good as this one.
Blodeuedd's Cover Corner: very pretty.
Reason for reading: From Simon & Schuster
Final thoughts: She brings to life an era filled with war and backstabbing brothers. It's not an pretty era, but it is sure interesting.

4