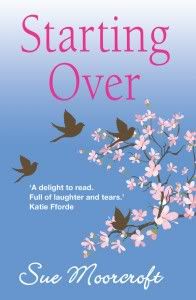 Genre: Women's fiction
Pages: 336
Published: 2009 Choc Lit
New home, new friends, new love. Can starting over be that simple? Tess Riddell reckons her beloved Freelander is more reliable than any man - especially her ex-fiance, Olly Gray. She's moving on from her old life and into the perfect cottage in the country. Miles Rattenbury's passions - Old cars and new women! Romance - He's into fun rather than commitment. When Tess crashes the Freelander into his breakdown truck, they find that they're nearly neighbours - yet worlds apart. Despite her overprotective parents and a suddenly attentive Olly, she discovers the joys of village life and even forms an unlikely friendship with Miles. Then, just as their relationship develops into something deeper, an old flame comes looking for him ...Is their love strong enough to overcome the past? Or will it take more than either of them is prepared to give
This was a nice book because it had this sort of honesty about it, and this natural flow of things.

It's about Tess who has been left at the altar; her fiancé broke up with her via email. The horror! What a bastard, she was angry, and she was ill. And now she is finally picking up the pieces of her life and has moved away to a small village somewhere in England. At once she meets Miles, or Ratty as he is called, and dislikes him. But there is something hidden beneath that surface, and he is so sweet to people he like. But it is not as easy, her ex is back (still an ass), but something is building up.

Of all the ways to break up, I disliked her ex Olly at once (email!!). And even more as I got to know Tess, because there are more things hidden, and one thing is for sure. She is so much better off without him. I really liked when Miles came and defended her at once time when Olly was being an ass.

Miles, oh he is a player, he enjoys his women, but there is still this sweet side to him when he is around his friends, and their kids. One has to like him, and he does want her, and as times go by, he understands how much he wants her.

There are no big things happening, there is just life. Tess trying to make a new living, getting new friends, trying to get away from her overprotective parents, and slowly trusting a man again. But like life, there is also hardship. She is still very vulnerable, and it shows.

It's a nice book about life, love and everything else. I know she has to be comfortable to let him in, and I wait for it to happen. They are such good friends, and I am sure they could be happy together. But I am never certain, Moorcroft does keep me on my edge, I do not know how she does it, but she does. She makes me doubt and then she makes me happy. I like that, because even if my soul knows that that HEA is coming, I still want to be surprised.

What I liked about this book was the honesty, the normal people living normal lives, and two people falling in love, slowly but with a certainty. People making mistakes, and in the end, true love. Sometimes you don't need more than that. No big gestures, no crazy anecdotes, just a great couple and their way, to love, or not to love. I can't go and spoil everything now can I.
Blodeuedd's Cover Corner: Nice, sweet, and simple.
Reason for Reading: From the Publisher. Oh and I do love their motto:
Choc Lit: Where heroes are like chocolate- irresistible
Final thoughts: I liked Ratty, Miles that is, and I want those drawings that Tess made.
3