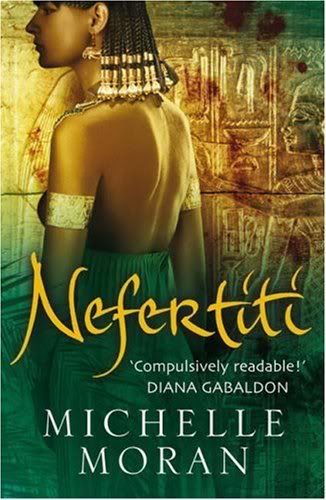 Genre: Historical fiction
Pages: 528
Published: 2007
Nefertiti and her younger sister, Mutnodjmet, have been raised in a powerful family that has provided wives to the rulers of Egypt for centuries. Ambitious, charismatic, and beautiful, Nefertiti is destined to marry Amunhotep, an unstable young pharaoh. It is hoped that her strong personality will temper the young ruler's heretical desire to forsake Egypt's ancient gods.

From the moment of her arrival in Thebes, Nefertiti is beloved by the people but fails to see that powerful priests are plotting against her husband's rule. The only person brave enough to warn the queen is her younger sister, yet remaining loyal to Nefertiti will force Mutnodjmet into a dangerous political game; one that could cost her everything she holds dear.
I read my first Michelle Moran book last year and enjoyed it, she has this way of bringing history to life. Ever since that I wanted to read her previous novels and now I finally got to read the first one.
This book is about a famous time in the history of Egypt. But it is not told through the eyes of the big players. No the main character here is Mutnodjmet who was the sister to the famous Nefertiti who married Amunhotep who would start a new religion and build a new capital.
Mut was the younger sister and when Nefertiti got married she came with her. First there are court intrigues with Amunhoteps first wife Kiya, then there is the intrigues surrounding him wanting a new religion and by doing that getting all the money from the Amun priests. Mut watches her sister ensnare the pharao and trying to keep his attention, and giving him the son he needs. But Mut has a mind of her own and there comes a time when she wants to break free from her sisters hold.
I liked how Mut was portrayed. First as a young girl thrown in to the political game, then as a young woman falling in love. Her whole story is not told here, and the book ends before a new rule sets in. So yes, what did I do, of course I googled. By now you can see I am rather obsessed with that. I sat and read about Egyptian history and what happened later to Mut. And even if we can't know everything, Moran has followed what might be true. This is a great historical novel about a woman who stood near the throne at a turbulent time, and who isn't as well known as her famous beautiful sister. But that is what I liked, to get to know a lesser known historical figure who still stood at the centre of things then and afterwards.
Moran truly brings history come to life. I am there in ancient Egypt and everything feels so near. One thing that this book made me want is to read The Heretic Queen, the book that follows Ramsesses II who became Pharaoh near this period of time, a couple of Pharaohs down since much happened in a short period of time. Because she truly is a great historical author and I want more. Not to mention read her new book that is coming out.
If you are interested in Egypt then this is a book for you, or if you are a historical fan, or if you just want a good book.
Blodeuedd's Cover Corner: Love it
Reason for reading: My awesome library loot, missing that city now.
Final thoughts: I do want more.