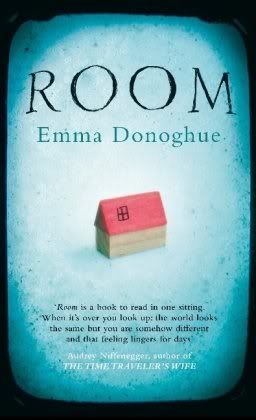 Genre: Fiction
Pages: 402
Published: 2010
This is the story of a mother, her son, a locked room and the outside world. Jack is five and, like any little boy, excited at the prospect of presents and cake. He's looking forward to telling his friends it's his birthday, too. But although Jack is a normal child in many ways - loving, funny, bright, full of energy and questions - his upbringing is far from ordinary: Jack's entire life has been spent in a single room that measures just 12 feet by 12 feet; as far as he's concerned, Room is the entire world. He shares this world with his mother, with Plant, and tiny Mouse (though Ma isn't a fan and throws a book at Mouse when she sees him). There's TV too, of course - and the cartoon characters he thinks of as his friends - but Jack knows that nothing else he sees on the screen is real. Old Nick, on the other hand, is all too real, but only visits at night - like a bat - when Jack is meant to be asleep and hidden safely in Wardrobe. And only Old Nick has the code to Door, which is otherwise locked...Told in Jack's voice, "Room" is the story of a mother's love for her son, and of a young boy's innocence.
Plot:
Read the blurb. It's a good one.
My thoughts:
I was actually afraid to start this one, I was scared that it might be too much. Some things I just do not want to read bout. But everyone just loved it, and I was told it wasn't horrific. So I had a look at it, and could not put it down. I did anyway and saved it. The next time I took it up I could again not put it down, I read and read, at one time I was in such an uncomfortable position, but I read on. That is how good it was. The next day I could not turn my head to my left side. That kinds of sum it up how this book just sucked me in.
What saved the book from being too much for me, was that it was told through Jack, and he did not know what was going on. He only knew that Room was everything, and there was no Outside. He did not know TV was real either. And the only time there is that feeling that make you sick to your stomach is when he is sleeping in the wardrobe and hears the cringing from the bed. There we hear the horror, but we do not see it.
The book was unique and gripping. He was a boy who had only ever talked to his Ma, so I liked how the author made him express things. He was so innocent at the same time, and only later we fully see the trauma his Ma has experienced.
I am sure I could go on and on, but I will keep it short. Trust me, read this book. If I had read it last year it would have shared by Best book of the year spot with another. It was just that good.


Recommendation and final thoughts:
Remarkable, worth reading, and a book that I (almost) read in one sitting. It was impossible to put down, or to stop thinking about. So read it.
Reason for reading:
I had heard so much
Cover
For once I do not feel the need to be snarky