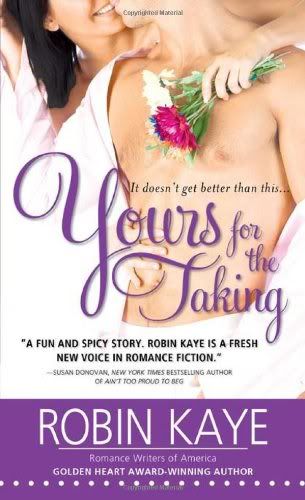 Genre: Contemporary romance
Pages: 384
Published: Jan 2011 Sourcebooks Casablanca
Gina is convinced that he is either gay... or her perfect match

Administrative assistant Gina accepts a marriage of convenience with gallery owner Ben Walsh so she can get out of debt. Besides, with his beautiful apartment, art collection, and impressive culinary skills, Gina's convinced the sexy bachelor is gay. Ben needs to be married before the year is out to prevent his grandfather from selling his inheritance, so he takes Gina to meet his grandfather in Idaho-or, as the city girl refers to it, Hell on Earth. But there Gina realizes Ben's every bit a hot, straight man, and Ben begins to think a real marriage with Gina just might be possible after all...
Plot:
Good blurb.
My thoughts:
This is the fourth book in the Domestic Gods series, but I promise you dear book-OCD people, it works wonderfully as a stand-alone.


Gina is as he calls is a fiery little Latin pixie. She is sure stubborn, and she is used to taking care of herself. She doesn't need help from anyone. Ben is the perfect man, so she believes he is gay. Because he can dress (well not in Idaho she finds out), he can cook, and he is everything a man should be. He needs a wife, she doesn't want to marry, but he does offer her a lot of money and since he is "gay" what is the harm. That is the twist, she thinks he is gay, but will find out that he is not when certain areas of him does not behave ;)
It was a sweet, dramatic and passionate romance. It starts of rocky, then it gets passionate when she realizes what is going on, and then it gets dramatic because they married for all the wrong reasons. It is not a way to build a relationship on. And she has some big issues going on with her past.
I really enjoyed reading about them in the mountains at his ranch, and that was lovely. And while there she meets his extended family. Those men have some potential for sure. They kind of scream, write about us too! I hope she does.
My own issues, not much really, I guess it did bother me that she went to thinking he is gay at once. But hey we needed the drama, and she was a bit broken inside, but the better for him to try to fix her.
Recommendation and final thoughts:
A great contemporary romance. I would say give it a go, there are great men, romance, and in this one, a bit of a cowboy vibe. I do like a man in a hat. It was a good book, hard to put down, and a couple that belonged to each other, but could not see it.
Reason for reading
I have heard good things about the previous books
Cover:
It is a bit too white for me, but I like the flowers, perhaps they picked them at the ranch :)
PS. Robin Kaye is coming by on the 28th for an interview .