Poor little me, I started the new year with a cold, bleh.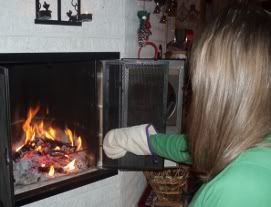 Ok so New Year's Eve:
Not that much tradition, fireworks and we grill some sausages and drink cider. But one thing we do have. We melt tin in fire, put it down in some water and then the form it takes will give you a insight in what the next year will bring.
Lol, oh you should have seen me, my tin exploded. Bf got a nice piece of melted tin, I got several pieces. What I saw, well that is a secret ;)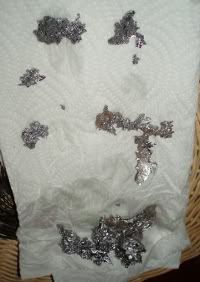 I finally took some pics of my own so gonna show them too:
Christmas Star, gotta have those, and the one next to it too. That one is more popular now.
Here we got the sausages, glögg, some cider, and julmust (coca-cola tried to win the xmas market, but nope, you drink must at Xmas and Easter. It has similarities.
Look ghosts! Yup tried to take a pic, but just got my own breath
And here is something for Chris :) I do love my cats.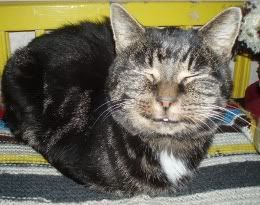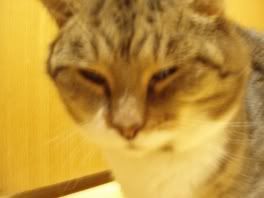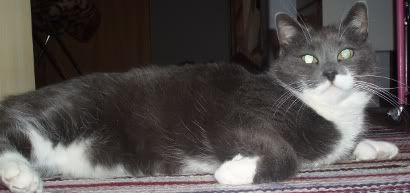 Rhodri on top, Verdi telling me stop taking pics! And Morrigan looking fierce.
A picture filled post :)
BEST OF 2010
Come on, pick a few, oh I can't! So I went crazy and still there were many books I wanted to also have on it.
Best book of the year:
The curious incident of the dog in the night time by Mark Haddon
Best weird book:
The Girl with glass feet by Ali Shaw
Best YA:
The Knife of Never letting go by Patrick Ness
Best fantasy:
The Black Prism by Brent Weeks
Best fiction
: The Calligrapher's daughter by Eugenia Kim
Best contemporary romance:
Straight up by Deirdre Martin
Best pride and prejudice variation:
Emma and the vampires by Wayne Josephson
Best Paranormal romance:
Demon from the dark by Kresley Cole
Best historical romance:
A touch of scandal by Jennifer Haymore
Best historical:
The Forever Queen by Helen Hollick
Runner-up:
For the King's favor by Elizabeth Chadwick
Best book about Egypt:
Nefertiti by Michelle Moran
Best follow-up book:
Towers of Midnight by Robert Jordan and Brandon Sanderson
Best cliffhanger:
Changeless by Gail Carriger
Best urban fantasy:
The Better part of Darkness by Kelly Gay
Best debut:
Mind Games by Carolyn Crane
Best dark book.
The Reapers are the angels by Alden Bell
Best translated book:
The Solitude of prime numbers by Paolo Giardano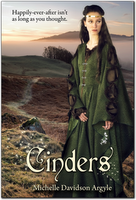 Best WTF you evil bastard!:
The Way of Shadows by Brent Weeks
The Book that made me cry:
Iron Kissed by Patricia Briggs
Best book published 2010:
The Darkest edge of Dawn by Kelly Gay
Best cover of the year
: Cinders by Michelle Davidson Argyle
Fav genre this year: Urban Fantasy
Books read: 187 (if I counted right, last time they were fewer, hm)
Graphic Novels: 6
Short stories: 4
edit: had to dsq a book, I read it in 2009, oh must have been the fever