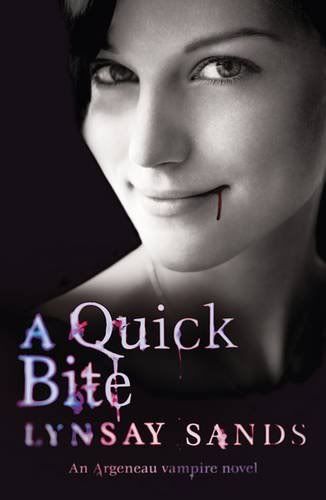 Argeneau, book 1
Genre: Paranormal romance
Pages: 400
UK PB: Published: December 2010 Gollancz
That hot guy tied to Lissianna Argeneau's bed? He's not dessert - he's the main course!

Lissianna has been spending her centuries pining for Mr. Right, not just a quick snack, and this sexy guy she finds in her bed looks like he might be a candidate. But there's another, more pressing issue: her tendency to faint at the sight of blood... An especially annoying quirk for a vampire. Of course it doesn't hurt that this man has a delicious-looking neck. What kind of cold-blooded vampire woman could resist a bite of that?

Dr. Gregory Hewitt recovers from the shock of waking up in a stranger's bedroom pretty quickly - once he sees a gorgeous woman about to treat him to a wild night of passion. But is it possible for the good doctor to find true love with a vampire vixen, or will he be just a good meal? That's a question Dr. Greg might be willing to sink his teeth into... If he can just get Lissianna to bite.
Plot:
The Blurb does say it all.
My thoughts:
This one was on the lighter side of paranormal romance. Sure there was some passion and danger, but there was also this light vibe and some humour.
I liked the plot idea. Lissianna is an 200 year old vampire, she has no problem biting down on a neck but in these modern times most blood comes in bad. And Lissi has one big problem, she faints at teh sight of blood. Her mother kidnaps a hunky men and leaves him on her bed, the doctor to fix her problems. A sexy doctor that makes her long for a bit more.
Lissi was nice, and after delving deeper into her past I understand her fear of blood. Greg was understanding, well, after a while, and they seemed to good for each other. But being immortal is not that easy when it comes to men.
And there I come into the best part of the book, the vampires. Not silly cross fearing, no shadows bloodsuckers here. No there is a good scientific reason; Atlantis, scientist, nanobots into bloodstreams to cure illness, and those same nanos were just too good. Which left the people almost immortal, but in a need of blood not to die. The same nanos can be transferred from mother to child, and if you find you perfect mate. There you got, vampires created by mistake by a superior people. I loved the originality of this.
The tone is light, and had me reading fast. One thing did bother me, a certain danger that emerged and that was so obvious but that Lissi did not see. But then she did have Mr Hunk on her mind so I forgive her.
My recommendation and final thoughts:
I liked this book, and it is a series that I would recommend. There are still lots of single vamps that need to find true love, and I wonder what dangers might emerge. A 3,5 with a promise of more to come. I enjoyed this story, and I sure enjoyed the background for the story. It was a sweet story, throw in some passion and mix with one big nosy family.
Reason for reading:
Sounded fun
Cover:
She does look really sweet and that fits Lissi.