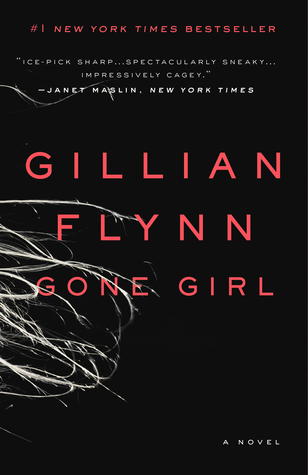 First Published: May 24th 2012)
Where I Got It: Borrowed from my friend
On a warm summer morning in North Carthage, Missouri, it is Nick and Amy Dunne's fifth wedding anniversary. Presents are being wrapped and reservations are being made when Nick's clever and beautiful wife disappears. Husband-of-the-Year Nick isn't doing himself any favors with cringe-worthy daydreams about the slope and shape of his wife's head, but passages from Amy's diary reveal the alpha-girl perfectionist could have put anyone dangerously on edge. Under mounting pressure from the police and the media—as well as Amy's fiercely doting parents—the town golden boy parades an endless series of lies, deceits, and inappropriate behavior. Nick is oddly evasive, and he's definitely bitter—but is he really a killer?
WHAT.DID.I.JUST.READ??????????? I thought this was going to be a normal mystery, but this for sure did an 180 about halfway. This was no longer a mystery of what happened to Amy. This turned into a psychological thriller and a damn circus. Sorry for the language, but that is the best way to describe what happened.
Now, the story has two POVs. One is Nick in current time. The other is in Amy's diary. Nick is being weird and he seems suspicious, so he is very unreliable. Amy seems like a lovable idiot who loves Nick so much. However, by halfway in the story, the tones are switching. Nick is becoming more reliable and Amy not so much. Amy has an 180 in her diary entries.
I love a good unreliable narrative. It certainly makes the story interesting, because who can you trust? What are lies and what are truths? However, Nick and Amy are not just unreliable, but they are INSANE. They are insane to the point of annoying and I couldn't wait for the ending to get the truth.
Poor Desi...........I also felt bad for everyone is mixed with these two nutcases. Amy was worse and I wanted to kick her. I'm not sure if Nick was insane the whole time, maybe a few cracks, but Amy sure did shatter his sanity 100%.
Now, the writing was really good, but the story was crazy. It was hard to get really involved when you don't like the two main characters. However, I don't think the author really meant for you to like the main characters. There are no sides. It was an insane circus that the readers are watching. I'll admit to some skimming because I just needed the insanity to end.
In the end, this was an interesting read that is for sure. The story was insane and the characters are even crazier. The beginning was decent and it slowly unraveled to something utterly different. I do think this is a must-read to fully understand. Out of five stars, I'll give this 3.