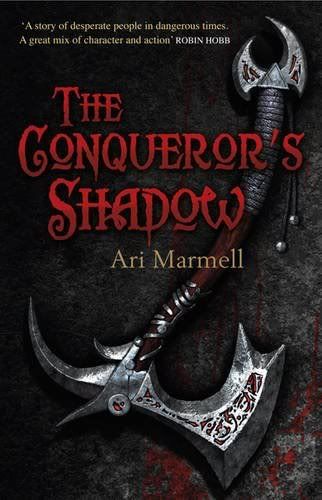 Genre: Fantasy
Pages: 480
Published: December 2010 Gollancz
They called him the Terror of the East. Hidden beneath a suit of enchanted black armor and wielding a demon-forged axe, Corvis Rebaine carved a bloody path through Imphallion, compelled by a desire to see the land governed with some degree of honesty. Yet just when victory was in his grasp, Rebaine faltered, then vanished, taking a single hostage, a young noblewoman named Tyannon, to guarantee his escape.
Seventeen years later, Rebaine and Tyannon are married and raising their children. Rebaine has given up his dreams of conquest. Not even news of the upstart warlord Audriss can stir the retired warrior to action, until his daughter is assaulted by Audriss's goons.
Now, to rescue the country he once tried to conquer, Rebaine once more dons the armor of the Terror of the East and seeks out his former allies. But Davro has become a peaceful farmer. Seilloah has no wish to leave her haunted forest home. And Khanda . . . well, to describe his feelings for his former master as undying hatred would be an understatement.

But even if Rebaine can convince his onetime comrades to join him, he faces a greater challenge: Does he dare to reawaken the part of him that gloried in cruelty, blood, and destruction? With the safety of his family at stake, can he dare not to?

Plot:
It says what it should say
My thoughts:
I liked it, a lot. There was something light over the whole book, even in the darkness. Corvis is not someone you should like, but how could I not like him. At the beginning of the book he does his name credit, he is not a nice person, quite the opposite. The he disappears and marries, haves children, only to see the world break again. And again he shows that he truly is The Terror of The East. But sometimes you just have to love the evil guy, because at least this time he wants to protect his wife and children. Marmell sure does a great job creating this character you just fall for.
There is humour and a streak of light through out the book. Much comes from Khanda, his "pet" demon. That demon has a tongue on him and says what he wants. To my horror I like him too, even when he is feasting on souls. There is also his once trusted friends, great sidekicks there.
The book does what fantasy should do. It sweeps you into a new world and make you feel right at home there. A kingdom that can not stand together, the guilds wants one thing, the nobles another thing, and a new enemy that wants to have it all. There are battles, death, destruction, and one good plot that had me guessing.
But the thing I did like the best was how much I liked these characters, and how I wanted to read more about them. The book ends where it ends. A nice conclusion and that is it. But it leaves an opening and there will be another book, and I want that book.
Recommendation and final thoughts:
Of course I am recommending this book, I could not put it down, and I did not want to put it down either. It was fun, it was light, it was dark, it was a great ride. I have to give it a 4 and I hope he keeps up the good work.
So go read it, and I promise you will like Corvis too.
Reason for reading:
I love fantasy
Cover:
Not what I like, but it does say fantasy