Today I welcome Mary Wine to my blog. She is the author of Highland Hellcat, among other books. At the bottom of this interview there is giveaway, 2 copies to win so what are you waiting for :)
Welcome to Mur-y-Castell!
Tell me something about yourself, so we get a better understanding about the woman behind the author.

MW: I'm a scatter-brained mother of two who gets bossed around by the family parrot…oh…well, maybe that's not the best way to put it. LOL. The parrot does boss me around but he's just so darn cute. I practice Tae Kwon Do with my boys, and we have all earned our black belts. My other love is sewing. I make historical garments and enjoy finding an excuse to wear them.


Your newest book is called Highland Hellcat; can you tell me what it is about?

MW: This is the tale about what happens when well-laid plans don't go as planed. Brina was promised to the church, a rather normal practice in this time. Families that had three living daughters and sons too were expected to promise one to the service of the church. Those cathedrals took a lot of care. But there was food on the table and a roof over your head, so for most it wasn't very different than they would have had. Connor is a laird and he has a choice…be a good laird and earn respect or just take it as his due. He decides to earn it. That means he will marry for the alliance it brings his clan. He makes a deal with a large clan for the eldest daughter but she believes herself in love with someone else. Connor needs to secure a bride without rumors clinging to her so he takes Brina instead. Like I said…plans going astray.


Who is your favorite hero from the Highland series, and why?
MW: At the moment it's Quinton but I believe that's due to the fact that I wrote his book most recently. I tend to become absorbed in my work in progress.
The last book in the series is Highland Heat, when is that book out? Can you tell us a little bit about it?
MW: This will be Quinton's tale. It will release in March and the cover is wonderful! Quinton is jaded and Deirdre is distrusting of men. For these two to fall in love and admit it, took an amazing story.
What kinds of books do you read? Any favorite authors?
MW: Karen Roberts, Lora Leigh, Jo Goodman… and many others. When I'm not reading romance, I've got my nose stuck in a history book. My kids are forever living in fear of mom saying, "Did you know, there were street vendors as early a 1640 in the New York city area? They sold hot potatoes…" LOL.
Any advice for aspiring writers?
MW: Finish the book and write another. You can't expect to see every book and you can't sell what you haven't written.

To some different ones now:
Why do you think romance readers love the Highlands?
MW: What's not to love? It's a beautiful place but it's the character of the people which draws me. These men carved out a living in one of the hardest landscapes and never let it defeat them. They maintain their lore when others where trying to force them to conform.

Who is your fav Scottish person?
MW: This past summer I was in Alaska, sitting in a restored cat house when I heard one of the thickest brogues. I turned to discover an older gentleman sitting beside me and he was in fact a true Highlander. Mr. McKinney was kind enough to enchant me with tales of life in Scotland today. Yes, he plays golf and believes a cell phone would interrupt his game. For the moment, he's my favorite Scot.

I wonder, what do Scots wear under those kilts?
MW: Old Spice.
B: Thank you for stopping by Mary :) I am looking forward to Q's tale.
GIVEAWAY:
2 copies of Highland Hellcat
Open to US and Canada
1. Not a must, but it's always fun if you ask a question, comment on the interview, or anything you want :) Like why you love the Highlands.
2. Ends October 29th
3. if your email is not in your profile, then leave it here or email me so that I can contact you if you win.
have fun!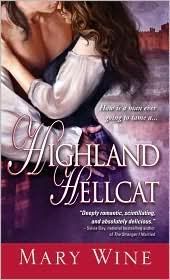 HIGHLAND HELLCAT BY MARY WINE—IN STORES OCTOBER 2010
"Hot enough to warm even the coldest Scottish Nights…"
—Publishers Weekly Starred Review of To Conquer a Highlander

He wants a wife he can control…
Connor Lindsey is a Highland laird, but his clan's loyalty is hard won and he takes nothing for granted. He'll do whatever it takes to find a virtuous wife, even if he has to kidnap her…

She has a spirit that can't be tamed…
Brina Chattan has always defied convention. She sees no reason to be docile now that she's been captured by a powerful laird and taken to his storm-tossed castle in the Highlands, far from her home.

When a rival laird's interference nearly tears them apart, Connor discovers that a woman with a wild streak suits him much better than he'd ever imagined…
ABOUT THE AUTHOR
Mary Wine is a multi-published author in romantic suspense, fantasy and western romance; now her interest in historical reenactment and costuming has inspired her to turn her pen to historical romance. She lives with her husband and sons in southern California, where the whole family enjoys participating in historical reenactment. For more information, please visit
http://www.marywine.com/website/.