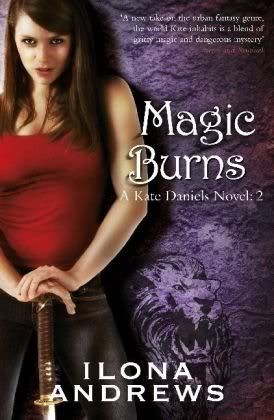 Kate Daniels, book 2
Genre: urban fantasy
Pages: 260
UK pb publication: October 2010
Gollancz
As a mercenary who cleans up after magic goes wrong, Kate Daniels has seen her share of occupational hazards. Normally, waves of paranormal energy ebb and flow across Atlanta like a tide. But once every seven years, a flare comes, a time when magic runs rampant. Now Kate's going to have to deal with problems on a much bigger scale; a divine one.

When Kate sets out to retrieve a set of stolen maps for the Pack, Atlanta's paramilitary clan of shapeshifters, she quickly realizes much more is at stake. During a flare, gods and goddesses can manifest - and battle for power. The stolen maps are only the opening gambit in an epic tug-of-war between two gods hoping for rebirth. And if Kate can't stop the cataclysmic showdown, the city may not survive.
I may not be in love with Curran yet, but here my heart did skip a beat.
Plot:
Kate Daniels needs to find some stolen maps for the pack, but a mysterious man keeps getting in her way. The flares are getting worse and soon strange creatures are after here, this time Gods wants to come out and play. Curran still annoys and this time she becomes responsible for someone else too.
My thoughts:
Kate can still kick some serious ass, and she is not afraid to take anyone on. I like that she is so unafraid and that she can stare down the mighty Curran. But for the most of this book I kind of wanted her to get together with Bran, he was such a hottie in my head, but then I love a good Celtic hero. But then came the quote that made me for the first time fall for Curran. I may not be a Curran lover yet, but I can see myself heading that way.
"Animals expresses love through food. When a cat loves you, he'll leave dead mice on your doorstep, because you are a lousy hunter and he wants to take care of you." - Aunt B

Awww, Curran likes her. Ok I am starting to see why everyone adores him. Still Bran had my heart in this book.
The kid Julie brought something more to the book, I got to see some motherly instincts from Kate, because she is so reckless and will get herself killed. I keep hoping someone will tell her to slow down.
The magic still rocks, the dystopian world is a great invention, the things that keep showing up are interesting and I wonder what will happen next. And then there is Roland, I need to know more! I need to know about him, and for that reason alone I would keep on reading.
Recommendation and final thoughts:
An interesting UF series, a kick-ass heroine, and a plot that drives the book forward. I am aching to know more, and to see if Curran wins me over. Because he is on his way doing that. I would give it a 3,5 because it was good, and I would recommend this series. But I think it can get even better, and there is only one way to know that, and that is by reading book 3.
Cover: At least her expression is better here than on book 1.
review copy from the publisher, all my thoughts are my own