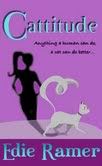 Genre: Paranormal romance
Pages: 170
Published: August 2010
Reviewed by Lis
It's all in the Cattitude...After Belle the cat switches bodies with a psychic on the run from a murderer, she wants her perfect cat body back instead of this furless human one. But she doesn't count on falling in love with her former owner. Or that a CEO and a beauty queen want to use up her nine lives. Now is her chance to prove anything a human can do, a cat can do better.
When B asked me to review this book and read the blurb I was already mentally shaking my head and saying: 'Nooooooooooooooooo way!' A cat that changes bodies with her 'assailant' and falls in love with her owner and a mysterie to boot? Nuh uh. I might read a lot, but this is not my cup of tea.

Of course, B. can be very persistent and she sent me the book anyway, just so I could take a look and of course, I could not resist.

Edie Ramer's Cattitude is a typical case where you don't judge the book by its blurb. Cattitude pleasantly surprised me from the first page. Belle is a fiery character, both as a cat and as a person. All secondary characters are solid, three-dimensional characters and they make for a funny, attention-grabbing story.

My thoughts

Ms. Ramer definitely knows her cats, because her portrayal of Belle is reminiscent of any cat I know. Cats got attitude and Belle's got 'tude enough. Her views of humans are hilarious (and definitely true from a cat's point of view) and it is fun to see how she adjusts to being human just as Sorcha adjust to being a cat.

I also liked the introduction of Sorcha. Just as I was wrong about the book, I was also wrong about this character. I thought she might be a third wheel in the story and yes, in a way she is, but a very good third wheel. I liked how "her" story ends. It was surprising. Sorcha carried just as much story as Max & Belle did.

The mystery part of the story was a hoot. It was both serious and comical and very fitting in the story.

Conclusion

Cattitude is a surprising book that I can definitely recommend. It's a refreshing read with an original, funny and suspenseful plot, complete with a host of witty and funny characters. It is a well written story that has you on the edge of your seat and rolling on the floor in front of it and maybe pinking a way a stray tear as well.
---------------------
Let me introduce you all to the new girl, Lis, who was kind enough to review Cattitude for me :) Thanks again, you rock! Hopefully I can tempt her to come back too.
Hi my name is Lis, an incredibly chaotic, sword wielding cowgirl from Holland who lives and breathes books of the supernatural & paranormal variety stirred with some romantic, erotic and mystery and or historic ingredients. Hell, who am I kidding. I'll read anything if it's interesting enough. A very long time ago (think centuries) I read the great works from Homer to Shakespeare. Nowadays it ranges from Katie MacAlister to M.L. Rhodes from Lilith St. Crow to Stephani Hecht. Ocassionally I even review the books I read, just so long as it doesn't take me away from them for too long!