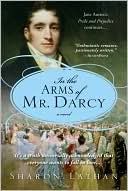 Genre: Historical fiction/romance/Pride and Prejudice variation
Pages: 358
Published: October 2010 Sourcebooks Landmark
This lushly romantic and historically fascinating story is filled with lavish details of Regency customs and social events including Elizabeth's presentation to the Prince Regent, Georgiana's debut at the exclusive Almack's Assembly, and the Darcys' travels through the dramatic Peak District of Derbyshire. Romance finds nearly everyone as confirmed bachelor Richard Fitzwilliam sets his sights on the seemingly unattainable Lady Fotherby, Georgiana Darcy learns to flirt, the very serious Kitty Bennet develops her first crush, and Caroline Bingley meets her match. Through it all, Elizabeth and Darcy are kept busy helping friends and family navigate true love's inevitably rocky course.
This book is actually part of a series, and you know what, there are two books I have missed. I think I am loosing my series OCD. I have read the first one and it's easy to just jump in, but I do want to know how Mary met her man. I must go back for that book.
In this one Lizzy had given birth to a highly beloved son. It's Christmas and the whole family has come. Mary with her fiancé (how did that happen?), and all the rest. Colonel Fitzwilliam is aching for someone he always has cared for, Georgiana is introduced into society, Kitty falls in love and Caroline Bingley feels passion. Among a lot of other little things happening at Pemberley.
Even Anne de Burgh has found someone so yes, need those two previous books to see how this happened. Lathan slowly makes people fall in love, get married, and live their lives. And I meet all my beloved PP characters again.
Lizzy and Darcy are at it like rabbits, they are first passionate, and really loving and cute. Darcy is wonderful in this book, he adores his wife and the way he is with the baby makes my heart melt. The passion between them just makes it more loving.
Still a lot of things to come, not all people meet happy endings here so more to come, and I do want to know. Lathan has found her own way and introduces new characters that feels true to the Austen world.
This book also shows that a PP series is possible, there are always things that might happen, but what is constant is the love Darcy and Lizzy feels for each other, it is heartwarming.
Blodeuedd's Cover Corner. Kind of wished he was more handsome, oh I am wicked
Reason for reading: From Sourcebooks
Final thoughts: It will be interesting to see what happens next.
3,25