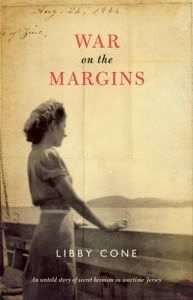 Genre: Fiction
Pages: 245
Published: 2009
France has just fallen to the Nazis. Britain is under siege. As BBC bulletins grow more and more grim, residents of Jersey know they cannot expect help from anyone. Thousands of them abandon their homes, trying to evacuate before the first of the German planes whine overhead. Not long after the mass exodus, the Germans invade and begin to impose Nazi doctrine on the vanquished people of Jersey. Marlene Zimmer, a shy clerk at the Aliens Office, is forced to register her friends and neighbours as Jews while hiding her own heritage. Eventually, after being spotted at her Jewish father's gravestone, she decides she must flee to avoid persecution, and after a final act of rebellion against her anti-Semitic employer, she disappears. Layers of disturbing history unfold as we chart Marlene's transformation from unassuming office worker to active Resistance member under the protection of Surrealist artists Claude Cahun and Marcel Moore. Drawn from authentic World War II documents, broadcasts and private letters, "War on the Margins" tells of an often-overlooked and crucial battlefield during World War II.
This book has similarities with the Guernsey pie book, they both deal with the occupation of the Channel Islands. And it's something I have not heard much about at all.
Marlene Zimmer has stayed behind on Jersey when the Germans come and soon things get really bad. All sort of restrictions are put on Jews, and her being one makers her scared so she runs away. She meets two women who have their own resistance and joins them. Hers is not the only POV, we also gets to follow some other people. Peter, a Polish slaveworker who is being worked to death on the island. A Jewish woman on the run, a German soldier who hates what they are doing to the people, and a few others. The war is seen through their eyes.
This was a good book about the war, I enjoyed it, and I was also horrified by it. The cruel of the Germans towards their slaves, and especially the Eastern European ones because those were so pure, the crazy bureaucracy towards Jews, and of course later what happened. Even the German soldiers had it bad. Everyone on the island was starving. They had to live on rats and whatever they could find. War is hell, and here that was true. I can't imagine what it would be hiding in a cellar for years and wondering when the soldiers would come to take you away. You always know there will be cruelty and inhumanity and I always wonder how people could be so evil. But there is also hope and the goodness of mankind. People who hid Jews, and slaver workers on the run. Farmers who left out food for the hungry. Stories that bring you hope.
The different POVS worked, and they were all interesting to follow. There was also the interesting concept of doing something right, that then might have been wrong, so what is the right thing to do? Might sound confusing, but read and see.
Like I said before, I have heard way too little about this, and in a way it was like the people felt. They listened to the radio but never heard anything about their own plight.
Cover: Nice
Final thoughts: very interesting