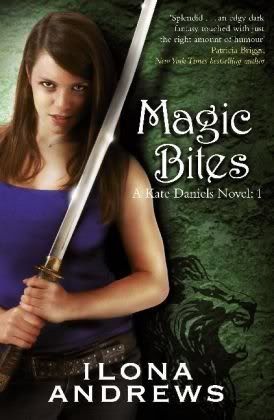 Kate Daniels, book 1
Genre: Urban Fantasy
Pages: 260
UK publication: September 2010
Gollanz
Quote: "What kind of a woman greets the Beast Lord with "here, kitty, kitty"?"
When the magic is up, rogue mages cast their spells and monsters appear, while guns refuse to fire and cars fail to start. But then technology returns, and the magic recedes as unpredictably as it arose, leaving all kinds of paranormal problems in its wake.

Kate Daniels is a down-on-her-luck mercenary who makes her living cleaning up these magical problems. But when Kate's guardian is murdered, her quest for justice draws her into a power struggle between two strong factions within Atlanta's magic circles.

The Masters of the Dead, necromancers who can control vampires, and the Pack, a paramilitary clan of shapechangers, blame each other for a series of bizarre killings—and the death of Kate's guardian may be part of the same mystery. Pressured by both sides to find the killer, Kate realizes she's way out of her league—but she wouldn't have it any other way…
I finally got to meet Curran, it seems that everywhere I look there is always talk about Curran, and what a man he is. And he wasn't that shabby.
For a quick summary. Kate Daniels hunts down out of control magical beasts and so on. She can kick some serious ass, and she has magic. But then her guardian is killed and she heads to Atlanta to find the murderer. Here she meets Curran and his shifters, yay, and the vampires.
I must say that I would have liked some more info about how things came to pass. It seems that magic came back to the world with a bang, and that meant shifters and vampires too. Magic prevents cars from running when there is a big flow coming through the city, electricity is not what is used to be. Now one has to rely on magic, until the day is goes away again. So a story set in a near future, but a future that is totally different. I liked this even if I wanted more. She explained at one time why phones works sometimes and that is because people can't understand how they work, it's just like magic, so they work when magic prevents other things from working. That gave me a pretty good idea about the world. And what a world, riding a horse through a crumbling city, people trying to work magic, and evil things coming through the cracks.
The romance is there but not that much, there is this other guy first. And then there is Curran, those two sure has a lot of chemistry, or they really dislike each other. The bantering is hilarious and she is punching some great lines there.
Magic is everywhere, society is really different, and that means that this is a book has created something really interesting in concern to what if worlds. Because what if magic came back after being gone for millennia?
The heroine is kickass, the action is good, and soon there is a mystery with her origin that I am dying to find out more about. Still not the best first book, but I have been told the rest are so much better. For that they are worth it.
Blodeuedd's Cover Corner: She looks a bit young
Reason for reading: From the publisher
Final thoughts: Not in love with Curran, sorry all, I am more in love with the fascinating world.

3,25